If the pandemic taught businesses one thing, it's that knowing your customer is key to survival. A year after they suddenly started Zooming in, taking out, masking up, and staying apart, consumers are set to make up for lost time with the start of a new Roaring '20s. Once again, if businesses want to sell, they need to figure out how to speak to their customers — quickly.
Clearly, this blog post is about our one-of-a-kind system that gives organizations deep insight into what makes their customers tick. But trust us, this isn't like any other buyer persona you've ever heard of before.
Many professionals have heard of persona-based marketing and understand what buyer personas are, but few actually create personas. Sometimes, buyer personas are little more than outlines or they're rich in analytics but short on qualitative data.
A person's age or income doesn't tell you why they want to buy your product or the value they see in your brand. Businesses need to understand who their target buyer is, how they think, and how they behave, in order to survive in a turbulent economy.
The World's Best Buyer Persona® System (WBBPS) was built to help your business do just that.
Creating The World's Best Buyer Persona®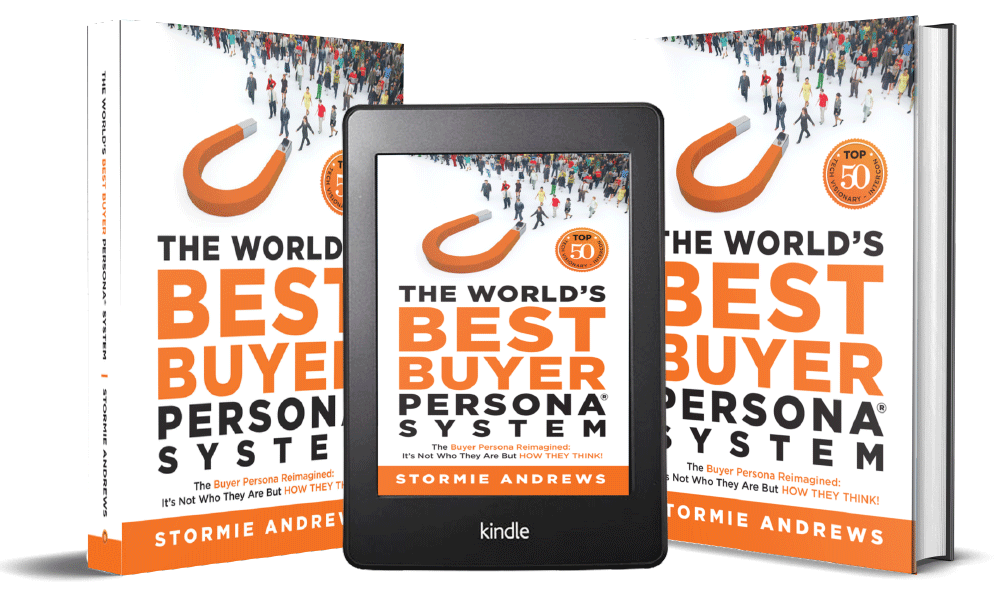 Well-researched buyer personas are the cornerstone of any successful marketing campaign and offer critical information for reaching customers. The WBBPS flips traditional buyer personas on their head and centers a customer's thoughts, motivations, and emotions. The power of this process comes from famed psychologist Abraham Maslow, known for developing Maslow's Hierarchy of Needs, a psychological framework that determines how behavior and motivation – two hyper-critical marketing criteria – impact decision making. The WBBPS uses Maslow's psychological model, reconfigured for businesses utilizing a Q&A-style process.
This approach yields true audience insights based on actual motivational principles that are helping real businesses, like yours, navigate COVID-19. You'll have a psychographic map of a customer's fears, hopes, motivations, and the triggering events that can lead them to your business and ultimately wanting to buy. Defining a new customer mindset and converting it into a strong combination of sales, marketing, and psychology may seem like an impossible task, but our founder wrote the book on it. No really, it's on Amazon, and it has helped a wide range of companies survive the pandemic.
How We Used The World's Best Buyer Persona® to Hit a Client's Leads Goal, Several Times Over
In late 2019, we began working with the leading company in the digital assets security industry. The client was able to attract business for years by referrals and word-of-mouth. However, despite offering best-in-class service, its competitors had greater online visibility and easily attracted business through this channel. Our client's goal was to grow their organic SEO presence and to ultimately get leads from inbound marketing. To make their investment worthwhile, we needed to bring them just one high-quality sale by the year's end.
We launched our client's campaign right before the pandemic hit the US. The first thing we did was create a buyer persona using The WBBPS, outlining the ideal customer's position within their company and the scenario under which they'd seek our client's services. The WBBPS research taught us what types of fears, questions, and goals this persona has in each stage of their customer journey.
Our approach was soon put to the ultimate test. Within months, much of the country suddenly looked like our buyer persona — thrust online and exposed to new career-ending threats.
It was a situation perfect for our client to capitalize on.
Service Pages
A website has to be built from the ground-up around the buyer persona. One of the fundamental ways this is done is through the creation of service pages that address the buyer persona's needs. In the case of our client, their ideal buyer was often confused by the different types of services they needed. They typically referred to one service (a pen test) to cover them all.
To address this obvious problem, we implemented search engine optimization (SEO) on each service page so customers could find them as needed. We added keywords that customers used that were specific to each service to the relevant pages. Customers usually didn't know the name of the service they needed, but they knew what problems they typically faced. By including the keywords they would associate with those problems, we were able to guide potential customers to the correct service pages, which usually wasn't the one for a pen test.
Landing Pages
The goal of a landing page is to use emotional and psychological messaging to convince the person to give their contact information in exchange for something, typically a service or a content offer. Landing pages can be used at any stage of the buyer's journey but are typically used as a prospect is considering solutions to their problem or trying to decide if they want to buy a particular company's products or services. Most landing pages aren't indexed by search engines and are only visible once someone clicks a link to them.
For the client, we created landing pages that were designed to lead to gated content in exchange for a prospect's contact information. We also created a persistent landing page located on their website that would serve as a place for prospects to sign up to receive a quote for their services. Prospects could effectively screen themselves by answering a few questions about the types of problems they're facing. The landing page also has a field where the prospect could share how they discovered the client, giving us insight into the effectiveness of our methods.
Content Offers
Content offers allow prospects to learn more information that can move them closer to a purchase decision. They are typically used when a prospect is aware of their problem and is looking for solutions and when they are making a decision as to what company they'll work with. For our client, we made two different content offers based on the buyer persona.
The first content offer we created explains why it seemed to be so hard to find security experts, a common pain point of the buyer persona. Our second content offer explained the ins and outs of our client's upcoming security as a service product. The content offers were primarily designed for the main buyer persona, who is an executive in dire need of security experts to protect their vast network of partners, each who presented an attack surface to malicious actors.
Workflow Emails
Workflow emails, also known as automation emails, are designed to entice toward specific goals. Oftentimes, that takes the form of downloading a content offer, signing up for a free demo, or contacting the client directly. Workflow emails are typically used in the Awareness and Decision stages of the buyer's journey. Workflows tend to work best once a prospect has some context of what the company offers and how it can benefit them.
We created workflows for the client that were designed to be sent to those who had purchased a book recently released by one of the company's owners. The emails provided prospects with critical information about their book purchase and enticed them to contact the client for their services. The workflows included copy designed to activate customer pain points as outlined in the buyer persona. They also were meant to reinforce the client's reputation with the inclusion of testimonies and new stories from major outlets in which they were featured.
Our Results
Prior to working with us, our client hadn't gotten any inbound leads since their founding over a decade ago. After a year of work, we've helped generate more than 80 inquiries from combined traffic sources. When it comes to organic specifically, the client more than tripled the quantity of organic high-quality leads, which was a tremendous success as the sales cycle in their industry is lengthy with closed sales averaging six figures.

Get More Customers With The World's Best Buyer Persona® System
Our use of The WBBPS delivered real results for a client that had struggled for years to find business online, despite their stellar reputation. What could we do for you?
Knowing what your customers want is vital to achieving success in a post-pandemic environment, where consumers are constantly reassessing what matters most to them. Find out how we can help your business do just this with The WBBPS during a free strategy session with one of our expert strategists!