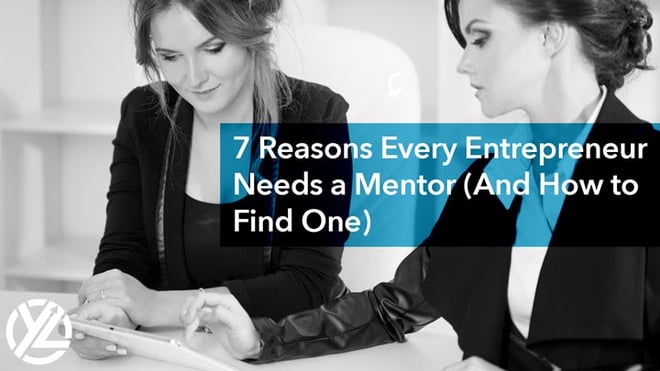 Whether a new business owner or a seasoned entrepreneur, the best decisions you can make is to seek out a business mentor. Why? Here are 7 reasons to start. Many of today's most successful business owners sought help and advice from those that had 'fruit on the tree.' Whether in need of guidance on sales, in marketing or with customer service, from their mentor these business owners gained crucial direction and wisdom at critical points throughout their careers.
What Does A Business Mentor Do?
A business mentor is someone in your industry you can turn to for advice, a different perspective and networking opportunities. They can serve as your confidant and can provide guidance and encouragement that can help you gain confidence in your own decisions and persevere through difficulties you might face.


7 Good Reasons Entrepreneurs Should Have a Mentor
Maya Angelou and Oprah Winfrey, Steve Jobs and Mark Zuckerberg, and Warren Buffett and Bill Gates; examples of famous mentor-mentee partnerships that changed the world. A mentor can open a whole new world of possibilities for you and your business and can be a lifelong friend you can turn to when you need them most. They can also provide:
1. Access to Wealth of Knowledge and Wisdom
When you start a business, you'll probably want some advice to help it success and to avoid costly mistakes. For better or worse, it can seem like everyone in your life wants to give you some. This can be overwhelming since much of it will be contradictory or irrelevant.
A mentor can give you focused, relevant knowledge and wisdom they have gained from years of experience. They can answer your questions as well as ones you never knew you had, giving you an advantage against competitors who will have to learn every lesson the hard way.


2. An Outside Viewpoint
Thanks to their experience, your mentor can help you see your business from a new perspective. Your mentor can help you think strategically about your business decisions so they fit into a long-term plan. This can be hard to formulate at the ground-level, especially if you don't have any prior experience running a business.
Your mentor can also help you see opportunities you might be missing or can alert you to potential problems before they turn into serious issues. They can also help you think about your business from the perspective of customers or your employees, which an help you better adapt your business to suit their needs.


"Maya Angelou and Oprah Winfrey, Steve Jobs and Mark Zuckerberg, and Warren Buffett and Bill Gates; examples of famous mentor-mentee partnerships that changed the world."


3. A Source of Motivation and Encouragement
Starting a business requires a leap of faith, but few entrepreneurs know that this is merely the first of many they will have to make. As a business owner, you'll often face challenges alone, whether you are rolling out a new product or opening a second location in a high-end shopping district.
You'll need to have confidence in your decisions, but it's easy to succumb to doubts, if you are working alone or you are taking a position against your partners. Your mentor can help boost your confidence.
With their support, they can provide you with the motivation you need to see your goals to completion. They can also provide you with the motivation you need to keep pursuing your ambitions, even if you're working alone.


4. Boundaries You'll Never Set for Yourself
Everyone wants has big dreams for their business, but it's easy for your ambitions to run ahead of your capabilities. Your mentor can help you see your business realistically so you don't take on more obligations that you can handle.
They can help you develop a plan for your growing and developing a business based on their own experience. You might want to double the size of your firm in a year, but your mentor can help you take a closer look to see if that's a realistic projection before you make commitments based on it.


5. Ways to be More Effective in Business
Your mentor has a wealth of knowledge to share with you, including strategies to help you better run your business. They can offer advice on how to handle troublesome customers to ways you can recruit employees who believe in your vision.
Rather than learning these lessons through costly trial and error, you can start implementing solutions they have already tested themselves. You'll be able to fall back on these strategies throughout your career, saving you precious time, money and frustration for years to come.


6. A Network of Important Connections
Networking is one of the most important skills you'll have to develop as an entrepreneur. Your mentor can introduce you to their network and put you in touch with new business partners or employees.
They can also show you how to better connect with professionals and entrepreneurs who can complement your vision and goals. More importantly, they can provide you a degree of social proof to new connections impossible to obtain elsewhere.


7. Stimulation of Personal and Professional Growth
Few people will have the experience and knowledge necessary to truly challenge or engage you with regards to your business. However, your mentor is perfectly positioned to do just this. They can help you overturn assumptions, reconsider some of your business practices and think about your business in a whole new way.


How to Find A Mentor as an Entrepreneur
Finding a mentor can be a challenge but there are a number of ways to do so. Professional services like Action Coach or Catapult Groups can put you in touch with a mentor. They can be expensive, and the relationships formed may not last beyond the first handful of meetings. The good news is your mentor might already be waiting for you in your extended network.
Consider asking your friends, family, or existing network first to see if anyone knows someone who could be your mentor. You might also consider joining a local group for your industry to meet one. In addition to being free, you'll also have the chance to form an organic relationship with your mentor.
Many of the most successful mentor-mentee relationships last a lifetime. However, even if yours doesn't, you'll still gain valuable advice, insights and guidance for your business that will last just as long.