Marketing technology is essential to the success of any inbound marketing campaign.
According to MarketingCharts, two-thirds of CMO's are planning to allocate a significant proportion of their budget to marketing technology.
And as data becomes more critical to marketers, such technology will only grow in importance.
In this post, we'll answer your most common questions regarding marketing technology. Plus, discuss the best way to incorporate the right tech into your organization.
Before we go any further, you need to have a clear understanding of marketing technology and the martech landscape in 2019.
What Does Marketing Technology Mean?
Marketing technology (also known as martech) is software used by marketers that allows them to effectively and efficiently manage marketing campaigns.
Martech allows you to:
Gather customer data that offers your business granular information.
Improve customer experience at every touch point with your organization.
Create personalized buying experiences which drive down customer acquisition costs and boost conversion and retention rates.
Track key marketing metrics.
Test and apply new marketing strategies.
Track campaign results in real-time.
Marketing technology is a field with seemingly endless potential for growth. Applications exist for marketing automation, email marketing, content marketing, social media outreach, video advertising, and workflow management.
The 2019 Marketing Technology Landscape (Infographic)
If you've been building stacks for some time now, it's likely you've come across Scott Brinker's marketing technology landscape.
For the past several years, Scott has been tracking the growth of marketing technology companies. Today, over 7,000 marketing companies offer martech solutions today, compared to 2011, when only about 150 martech companies were listed.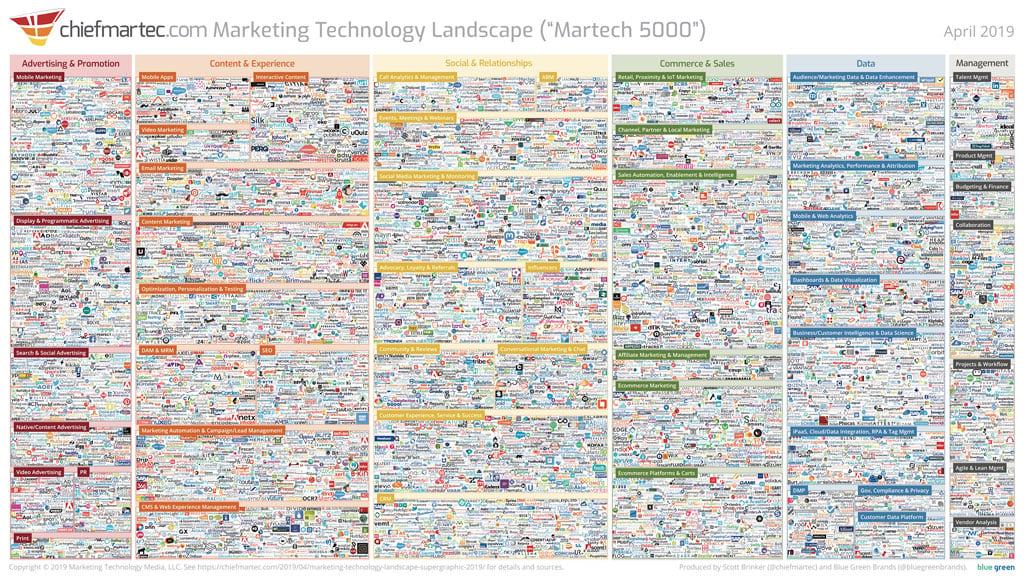 Martech has fast moved from cutting-edge, experimental technology to an essential component of any marketing team.
The Stats: Why Marketers Are Investing in More Technology
We are now in the second Marketing Technology golden age. Today, companies of all sizes are investing more into marketing apps. Just take a look at these stats:
28% of marketers are already spending over six figures a year on marketing tech. (Conductor).
In 2018, companies were expected to spend more than $32 billion on marketing software. (Radius)
CMOs are allocating nearly ⅓ of their budgets to marketing technology. (Gartner).
88% of marketers use at least one martech tool on a regular basis. (State of Marketing Technology 2017)
In a 2017 survey, 27%of CMOs were concerned with staying ahead and taking advantage of digital technology trends. (Korn Ferry)
45% of marketers reported spending more on technologies that could improve personalization and help analyze their data. (Adobe and Forrester Consulting)
35% of marketers believe marketing technologies will be vital to their organizations. (Clickz)
These trends are only expected to continue over the next few years. Marketers who depend on old school software and strategies could be left behind if they fail to adapt and adopt.
So, What Is a Marketing Technology Stack?
A marketing technology stack is an integrated collection of technology-based tools that marketers use to power their digital marketing campaigns. These tools also allow them to execute marketing activities efficiently and effectively across all digital channels.
A fully-integrated stack will show you a top-down view of your entire sales process. Such a stack will also align data collection with the needs of your sales and marketing teams.
What Does a Marketing Stack Look Like?
A stack could look like the following:
CRM software like HubSpot or Salesforce
A social media scheduling tool like Hootsuite or Buffer
A CMS that hosts your website and its content
The software marketers choose to in their stacks vary from business to business. Let's take a closer look at some of these tools.
What Tools Make Up A Marketing Stack?
A stack is made up of various tools spanning a range of categories: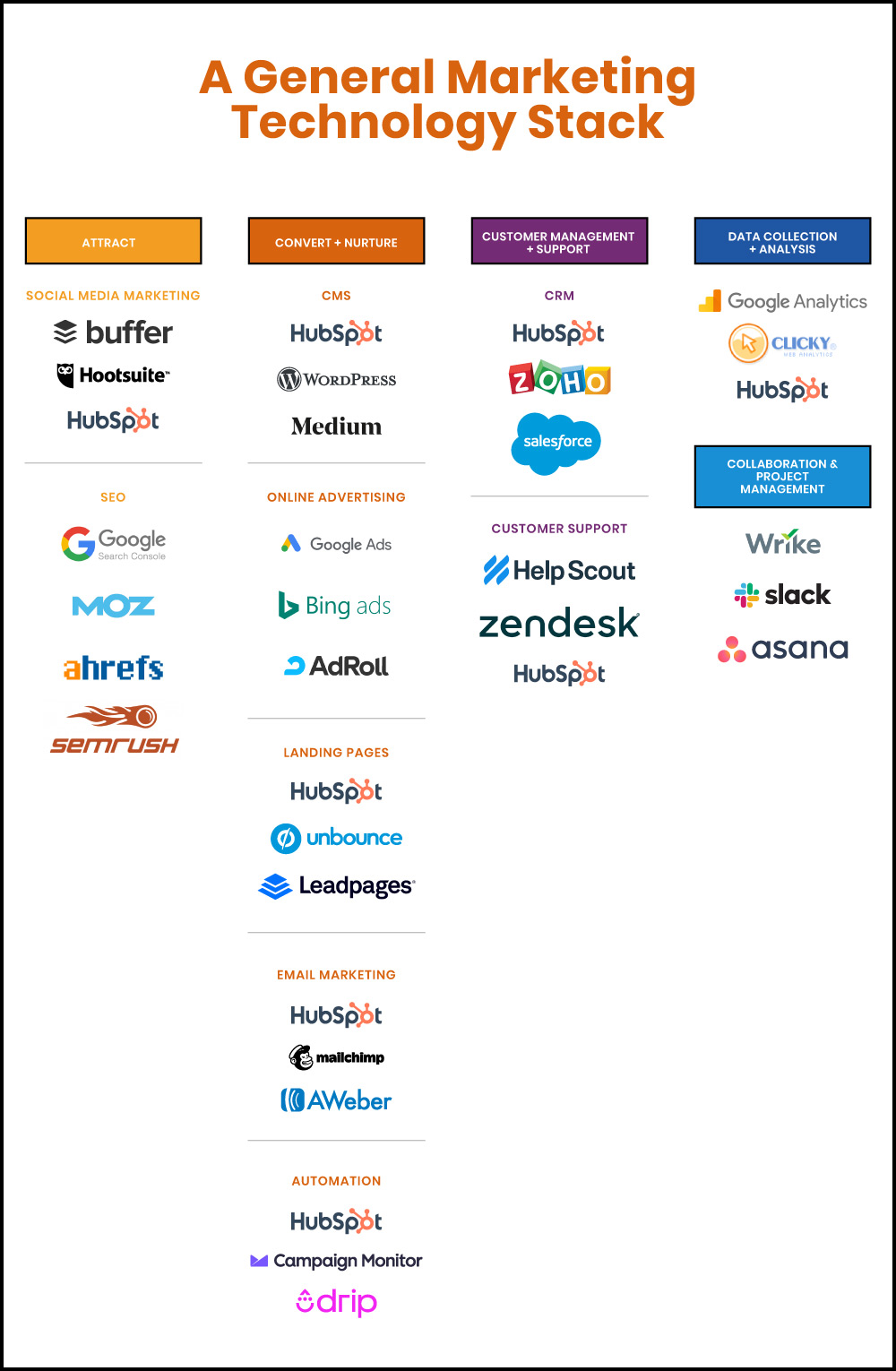 Marketing Project Management - Marketing management can seem impossible, especially if you're team is small. Project management software assists marketing teams with day-to-day marketing tasks.

Some project management tools include Wrike, Slack, and Asana.


Digital Advertising - Advertising technology in an essential component for customer acquisition. This includes driving search engine marketing, retargeting, display ads, and paid social advertisements.

Examples of digital advertising tools/platforms include Google Ads, AdRoll, and Bing Ads.


SEO - The world of SEO is rather complicated, no matter your level of expertise. However, there are tools out there that help with keyword research and get your website in front of your target buyers.

There's a ton of SEO Tools out there, seasoned marketers tend to lean towards Ahrefs, SEMrush, and MOZ.
Social Media Marketing: Social media tools are used to track your social marketing campaigns. From curating content to schedule across multiple channels simultaneously and managing social conversations.

Sure you can post directly from all social platforms, but there are social media marketing tools like Hootsuite, Buffer, and HubSpot that allow you to both publish and monitor social activity in one single platform.


Content Management System (CMS) - A CMS is a central hub for content publishing. This technology powers your content marketing, website, blogs, and landing pages.

We recommend checking out the following content management systems: WordPress, Medium, or HubSpot.


Email Marketing - Email is one of the most important channels for any business. Email tools are perfect for acquiring new customers, building brand awareness, and developing trust and loyalty among your customers.

Some email marketing tools are MailChimp, AWeber, and HubSpot.
Marketing Automation - One of the most powerful weapons in your marketing toolkit and a key role player. Marketing automation tools help streamline marketing processes while improving the customer experience.

Popular marketing automation tools HubSpot, Marketo, and Drip (for eCommerce).


Conversion Rate Optimization (CRO) - Tracking traffic to your site as well as your leads is just as important as converting them. To turn leads into customers, you want to use tools that help with create personalized user experiences.

Common options include Sumo, HubSpot, and Crazy Egg.


Customer Relationship Management (CRM) - An area of focus primarily for B2B, a CRM is the heart of a business. CRMs tracks all customer interactions while providing valuable insights on how marketing campaigns influence sales and business growth.

Today's most trusted CRMs include HubSpot CRM, Salesforce, and Zoho CRM.
Web Analytics - Often considered an afterthought (unfortunately), there are tools that are used to measure the performance and effectiveness of your online marketing campaigns. Think of web analytics tools as the workhorse of your marketing tech stack.

Web analytics tools include Google Analytics (FREE 😊), Clicky (FREE), and HubSpot (Free).


Customer Service/Support - Today customer support is easier than ever because now it can be all managed online.

Leading customer support tools are Zendesk, Help Scout, and HubSpot Conversations.
Editor's Note: In this article, HubSpot is mentioned quite a bit. HubSpot is one of the few platforms that contains nearly every tool you need to run full inbound marketing campaigns. Compare this to other platforms, where you have to piece marketing software together that may not always "talk" to one another.
Imagine having your martech stack in one platform. Are you interested in learning more about HubSpot or building a stack for your business? Request a strategy session with one of our senior digital marketing strategists.
Building a Stack That Aligns with Your Business Growth Goals
Diving right into martech is tempting. However, you need to stop and think about your needs before investing in new software or tools. Think about what aspects of your business can improve from more data. How can you best integrate and analyze the new streams of information you'll receive?
One of the best ways to build your stack is based on a framework that follows the buyer's journey.
When building your stack, start with technologies which have a track record of success and broad adoption. If a solution doesn't make sense for your organization, don't hesitate to switch it out for a different one.
A Few Things to Remember When Building Your Marketing Stack
The type of business, business size, and your marketing strategy will determine which technologies are most important.
Every marketing tech stack should have five key features (Forbes):
Integrations: Your marketing technology needs to work well together to be effective.
Real-time information. Fast processing and real-time computing that allows you to gather real-time customer data and act on it.
Ability to engage with customers across several platforms. Technology that allows you to reach your customers anywhere at any time.
A single source of data: Sure, all tools have some analytics component. However, to maintain the integrity of your data, you need a single data source that offers a complete customer view.
Data that provides attribution: That allows you to attribute the success of your marketing campaigns to a specific marketing initiative.
What Does Your Marketing Technology Stack Look Like?
Every incremental change you can make to your marketing efforts is a net gain. It's likely that you will switch out technologies as time progresses, your business needs change, new ones come online. Therefore, don't be afraid to experiment when it makes sense for your business.
The sooner you begin to integrate a growth-oriented marketing technology stack into your strategies. The better prepared you'll be able to reach clients as new technologies emerge. Rather than waiting for the best martech, find ones that work for your organization. Start incorporating them to improve customer interaction at every stage of the funnel.
Remember, the tools in your marketing stack are only as good as your ability to use them 😉.
Have yet to build your stack or not interested in setting up one yourself? We understand. Building an efficient martech stack can be daunting and expensive. No worries. There's another option. Marketing agencies (like ours) have access to enterprise tools that them to build supercharged stacks to drive your marketing strategy at a fraction of the cost. Speak with an agency today and see what they can offer you.