A
s a marketing professional, you already know that lead generation strategies are absolutely critical for business growth. If you're wondering how to get leads, you're not alone — it's at the top of every marketer's to-do list and is likely the focus of nearly all of your marketing campaigns.
Unfortunately, marketers and digital marketing agencies often tell us that, despite devoting tons of time to implementing lead generation strategies, they are still not getting their desired results. Why, if they're putting in the work, do leads remain stagnant, they wonder?
Here's what we tell them: in today's business environment, it's not enough to implement strategies, you have to learn how to automate lead generation.
Why the "Automate Generate" Model Works
Lead generation is the process of attracting interested prospects and turning them into potential customers. A potential customer (aka lead) is a person who has already shown some interest in your business, usually by taking a concrete action such as signing up for your newsletter, visiting your site, or sharing their contact information with you.
Lead generation tactics you may already have used include offering discounts, hosting an online event (a webinar, for example), or offering gated content.
Keeping those lead generation tactics up and running and consistent is a lot of work, so here's where automation comes in. Automated lead generation helps businesses (and over-tapped marketers) generate leads more consistently and reliably, with less effort. In fact, a report found that 77% of marketers converted more leads when they used automation software for lead generation.
"Automate to generate" works because it sends the right messages to the right potential customers at the right time — automatically.
Benefits to Automating Your Lead Generation Efforts
Automating your lead generation efforts will allow you to:
Send personalized messages to potential customers
Get deals and offers to potential customers when they're most apt to act
Retarget potential customers with the right regularity and overtime
Test which channels generate the most leads for your business
Save time and energy, which you can then devote to other pressing marketing needs
Automate Lead Generation With These 10 Steps
By now you should be convinced that automating lead generation is the way to go. And, yes, it can feel daunting at first to make the move to automation. But the long-term payoffs (more effective marketing, increased sales, more time for other marketing activities) will be worth it.
To help get you started, here are the platforms and tools that you'll need for automation, plus 10 simple steps you can take to get your automated strategy up and running.
Platforms And Tools You'll Need:
Microsoft Word, Adobe InDesign, or similar software to create a professional PDF document
Google Ads account and/or Facebook Ads Manager
Software or an online tool for creating landing pages
Pop-up tool
Email marketing software that allows automation
1) Pinpoint Which Specific Service or Product You Want to Promote
If your business sells multiple products or services, start by pinpointing the one you want to promote during your new campaign. Different services/products will have different sales funnels, as well as different types of buyers that want the service/product. Each of these will require its own automated system. Start with one, and go from there.
2) Research Your Buyer Persona
Next, research your buyer persona for the service/product you want to market. A buyer persona is a compilation of critical information about your customer — their fears, hopes, mindset, motivations, and triggering factors that could lead them to purchase from you.
Start your buyer persona research by digging into the latest market research, talking to your sales and customer service teams (they are often excellent sources of information about buyers), or sending out a survey. Putting in the work now to accurately identify your target audience will help you shape your marketing strategy and make it as effective as possible.
3) Create an Educational Document Your Buyer Persona Really Wants
Now that you know what you want to promote and who you're going to promote it to, it's time to entice your buyer persona into sharing their contact information with you. A great way to do this is by offering them a free educational document.
Consumers are often hesitant to share their information with businesses. They might worry about the security of their information, or about getting spammed with emails or texts. Creating a content offer like the one we mentioned above — also known as a lead magnet — will give visitors to your site a compelling incentive to share their contact information. If they want it, they'll do what it takes to get it!
With that in mind, you'll want to be sure your educational document matches the needs/wants/pain points of your buyer persona. For example, someone who is looking to purchase high-end beauty products could be enticed by a short video series on how the products heal the skin. Someone who is looking into camping equipment might want to read a detailed article called, "10 Tips for Outfitting Your Campsite Like a Pro." And so on.
It's simple: businesses that provide lead magnets attract more online leads. It's in the name, after all!
4) Build an Engaging Digital Set
Now it's time to let your prospective clients know about your products or services, as well as your lead magnet. You'll do this by building and running an engaging digital ad set.
Effective ads consider items such as your customers' pain points, have an eye-catching headline that includes information about a discount or free offer, and utilize Google Ads extensions. For more information about how to build an engaging digital ad set — one that will give you a higher than average CTR — check out our blog post on creating effective ad campaigns.
5) Develop a Strong Landing Page
The landing page is where your potential customers will "land" when they click on one of the ads in your digital ad set. It's where they will see the content that you highlighted in your ad. You want to make a strong impression here, as what they see will convince them to say around… or will scare them away.
An optimized landing page features good design, compelling headlines, and consistent CTAs. You want a landing page that will effortlessly boost lead generations and conversions, so be sure to put the time in to get the user experience on your page just right (for example, with A/B testing).
6) Create a Captivating Pop-Up
Maybe you're worried that pop-ups will only serve to annoy visitors to your websites. But here's the truth: pop-ups work.
An engaging pop-up on your business website that includes captivating CTA language and links to your landing page will be the hero of your lead generation strategy.
Pop-ups are also highly customizable in terms of which page of your site has the pop-up, and what kind of pop-up you'd like to use (an exit pop-up, delayed pop-up, etc). Test a few out and see which one is working best for your business needs.
7) Set Up Automation Emails
Success! Your potential customers have signed up to receive your educational document, thereby giving you their contact information. Next, they should receive a series of automated emails that will nurture them as a lead.
The first email will be the PDF, link to a video, or whatever else your lead magnet entailed. The message will welcome them to the offer and give them instructions on how to access it. Subsequent emails should be time-delayed and help the lead learn more about your business, build trust in your business, and ultimately want to buy from your business.
For example, 3-5 days after they receive the content offer email, they could receive a second email that asks them what they thought about the content and suggest products or services that they saw or read about in that content. The email series should tell a story and lead the reader to the logical conclusion of a sale.
8) Connect Everything
Once you have all the pieces in place, you'll want to ensure they are properly connected. The pop-up should lead to the right landing page, which should have the correct CTA, which should trigger the first email — you get the idea.
If anything in this chain is broken, it will cause potential customers to lose trust in your business, and will ultimately cost you sales.
9) Test
And to ensure all those items are properly connected, you'll want to run tests. In other words, follow your own automated lead generation. Click on one of your ads and pop-ups, and see where they take you.
You and others on your team (and some who are not — it's always good to get an objective opinion!) should walk through the lead generation experience you have created for your potential customers and adjust anything that needs adjusting before going live.
10) Routinely Review And Adjust If Necessary
Speaking of adjusting, it's not something you do once and you're done. Routinely reviewing and adjusting if necessary is exactly how successful businesses automate lead generation. Check your analytics once a week in the beginning, to see what's working and what's not. Once you get in a good flow (the sequence is giving you a solid ROI), you can reduce the frequency of your reviews to once a month.
How We Used Automation Lead Generation to Increase Solar Sales
Here at Yokel Local, we've been helping our clients discover how to get leads by showing them the power of automated lead generation strategies. Let's take a closer look at how this tactic helped one of our clients in particular, Bell Solar & Electric.
Bell Solar & Electric, a Las Vegas-based company, wanted to attract more leads to its website and increase sales. At the time, their marketing team didn't yet know how to automate lead generation, relying instead on strategies that took a large amount of staff time to continually track, and also didn't maintain the consistency needed to keep potential clients interested in their services.
First, we worked with them to create a compelling content offer and a matching content offer landing page, which enticed leads with an ebook on the solar buying process. Then, we created an automated email nurture sequence that followed up with leads who signed up to receive the ebook. Interested solar clients received information they wanted (the ebook), and ongoing communication from Bell that helped build trust and keep the company in the minds of potential customers.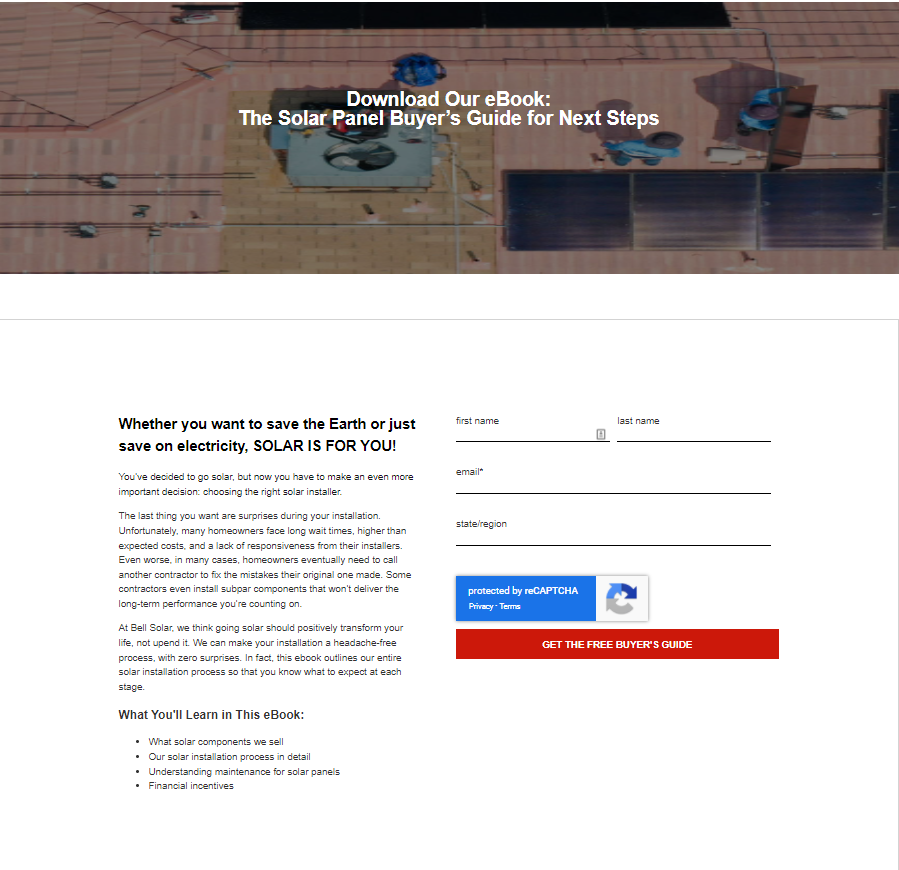 So, how did this campaign perform in less than a year? Here are some of the top stats:
New leads/contacts from the landing page: 38
An automated email CTR of 5.3% after the first email
Closed deals: 6
Revenue from this campaign: $226,635.90
The ROI for this campaign was worth more than $200K+ for the client — and that doesn't even include future revenue that they will get over the course of the lead lifecycle now that this strategy is running on autopilot for the company.
Some of Our Favorite Lead Generation Tools
To get the most out of your automated lead generation strategy, you'll want to use the right lead generation tools from the start. Recent surveys have found that a whopping 61% of marketers claim that lead generation is their greatest hurdle and 80% of marketers say that lead generation software provides their businesses with more leads and conversions.
Let's look at some of our favorite lead generation tools:
HubSpot - a free CRM platform that offers a variety of add-on tools to match your marketing needs. For example, their CMS Hub gets you all of their free tools, PLUS a group of premium services that will automate your entire marketing infrastructure.
MailChimp - known for its email marketing tools, MailChimp also provides website-building services. Users also get built-in marketing tools, like appointment scheduling.
Poptin - your pop-up creation partner. Easily design your pop-ups on their platform, then use their 30+ targeting and segmentation options to reach the right target audience.
Zapier - connects all of your marketing apps to help you with workflow issues. Zapier promises to remove busywork from your marketing strategy.
Need Help With Your Automated Lead Generation?
Now that you know how to automate lead generation, it's time to make this powerful marketing strategy work for your business. If you're still unsure about how best to put all of the pieces into action, working with a digital marketing agency — like Yokel Local — can help you launch with confidence.
We've worked with all types of businesses, successfully walking them through how to automate lead generation, setting up their first campaign, and boosting sales as a result. To get started, talk with one of our marketing experts. Once you "automate to generate," you'll never go back to your old, frustrating lead generation tactics again!