On July 26th, Yokel Local made its debut Get More Customers Academy live event right here in Las Vegas at the Hampton Inn on Tropicana. We had a great group of business owners, entrepreneurs and marketers wanting to know how to win online and grow their business using inbound marketing. We taught our 6-step process (The Inbound Marketing Playbook) and revealed some of the tactics we use to achieve results for our customers.
Here's what Get More Customers Academy Live attendees had to say.

(Turn on sound)
Get More Customers Academy Recap

Didn't make it to our live event? We have the recap below: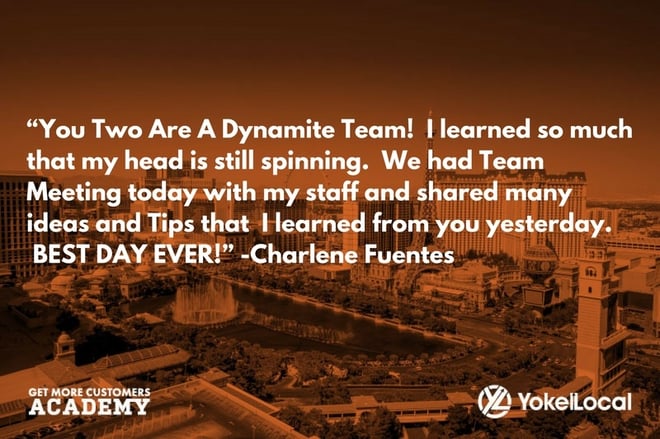 Introduction With Dan Tyre, Hubspot
Dan Tyre was a member of the original team at HubSpot, providing his expertise in sales as they grew to be a 3 billion dollar company. An energetic speaker with tons of valuable information, Dan kicked off the event with an enthusiastic intro to inbound marketing.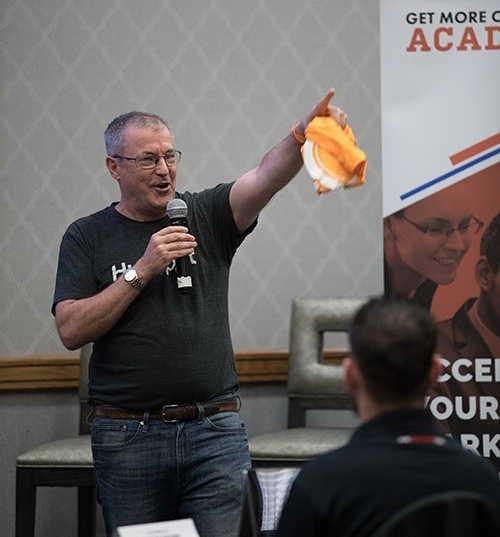 Key Takeaways: Cold calling is dead, and the world is moving away from interruptive advertising and lead gen. Unlike outbound marketing where you're actively trying to get a customer to buy from you, inbound draws customers in. Instead of "always be closing," the new sales phrase is "always be helping."
(Turn on sound)
Module 1: Who Is Your Audience?
How to craft the right message for the right person at the right time all the time.
Our founder Stormie Andrews kicked off the event with our first and most important module that lays the groundwork for the rest of the education series: Buyer Personas.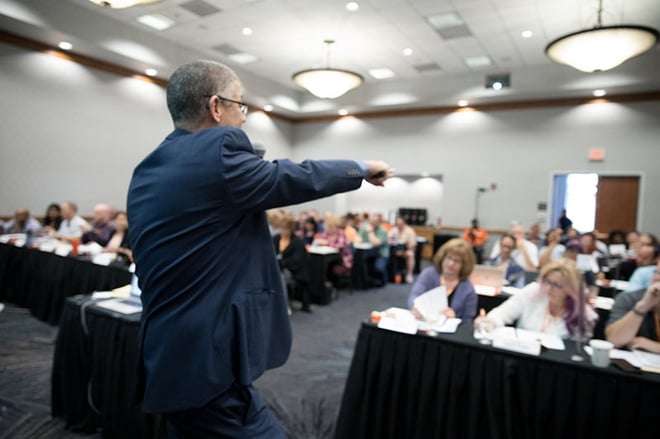 Key Takeaways: It's difficult to win online without knowing who your ideal customer is. Hint: It's not everyone. Building a buyer persona and crafting messaging that speaks to that ideal customer can help marketing, sales, service, and more.
We are excited to be in the house for the @YokelLocal Get More Customers Academy. #yokology pic.twitter.com/UEYjfM52a2

— Imagine Comm (@ImagineComm) July 26, 2017
Module 2: How to Attract More Visitors to Your Website
Our co-founder Darrell Evans built from Module 1 to talk about the one thing everyone wants to know about: attracting more website visitors.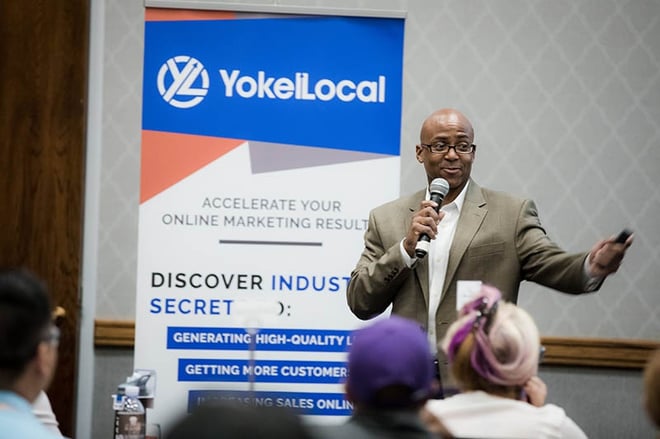 Key Takeaways: Blogging, SEO, social media, and paid advertising are all ways to drive traffic. By leveraging the unaware and pain aware stages of the buyer's journey (people who don't know they need to by yet), you can unearth 85% of your customers from a practically uncontested market.
With this in mind, blogging should be about problems, the pain that proceeds the solution. Darrell also shared several solutions to make content creation a breeze.
(Turn on sound)
Why Social Media?
De 'Borah Fortune Stott, Yokel Local's education director, further hit home the importance of social media when driving website traffic.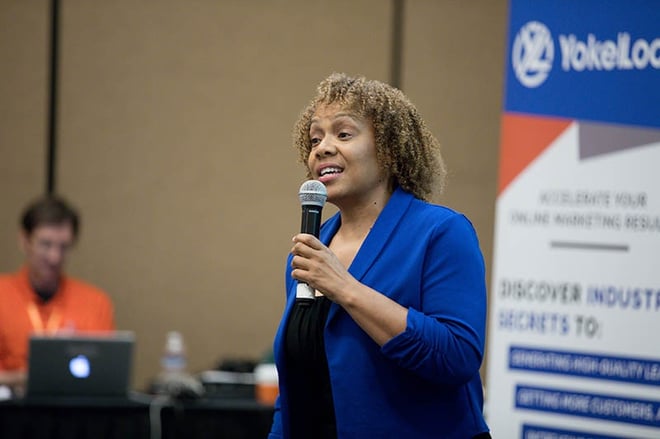 Key Takeaways: Search engines alone are not enough to succeed online. Twitter, Youtube, Facebook, and LinkedIn are some of the top platforms for social media for business. Facebook, in particular, is the smorgasbord of opportunity, including their "Pay to Play" strategies. De 'Borah also shared tactics and tools to make social media easy.
Module 3: How to Convert More Visitors Into Leads
Darrell opened up Module 3 talking about bridging the gap between traffic and leads. A ton of traffic is worthless if none of them are raising their hands to start a relationship with you.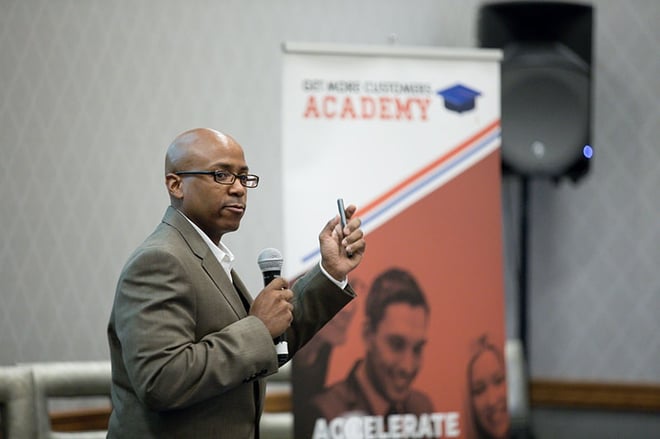 Key Takeaways: Make sure your website is a resource that meets your buyers at their stage of the journey. If visitors are showing up on your website, there should be a clear call to action. What do you want them to do when they show up?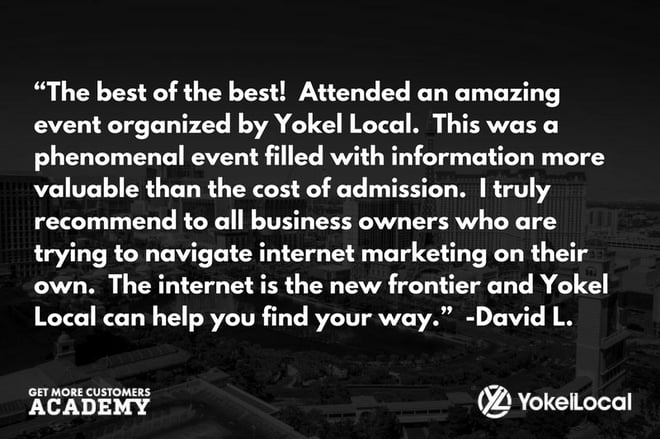 Bonus Content: The Skinny on Blogging
Amanda Edens, the content strategist at Yokel Local, dives deeper on the strategy and tactics of blogging from brainstorming topics, writing posts, and optimizing for search engines.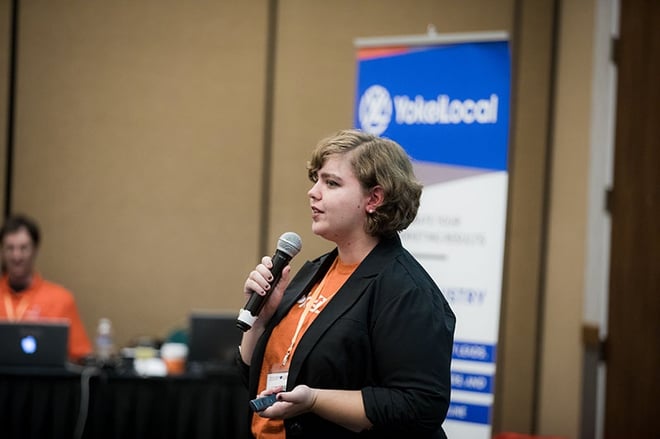 Key Takeaways: Writing the headline is the most important part of the process—no one will read your content unless they first get captured by the headline. Amanda shared the best practices of headline writing and one of her key tips, which is "Don't tell readers what you want them to know; write around what they want to discover."
(Turn on sound)
Bonus Content: The Power of Imagery in Content Marketing
Digital strategist and graphic designer Sha Drena Simon shares how imagery enhances blog posts, helps readers retain information, and strengthens branding.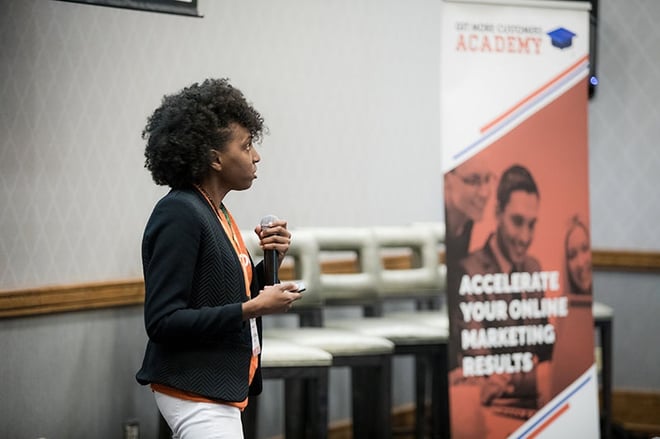 Key Takeaways: 95% of people are more likely to understand information when accompanied by an image. A successful image is composed of brand colors, creative typography, and your logo.
To wrap up her section, she even did a live demo on how to create an image in under 4 minutes.
Inbound Marketing Expert Panel Discussion
Loved the expert panel at Get More Customers Academy in #lasvegas @yokellocal #yokology pic.twitter.com/eqNIhLSFqe

— Diversified Mkt Intl (@dmiintl) July 26, 2017
Fresh off the heels of lunch, our experts lined up to take live Q&As from the audience, fostering meaningful discussion on the information up to that point.
(Turn on sound)

Module 4: How to Convert More Leads Into Customers
After the panel discussion, Darrell launched right back into the heart of our event: getting more customers. One huge problem: 73% of leads are never followed up on.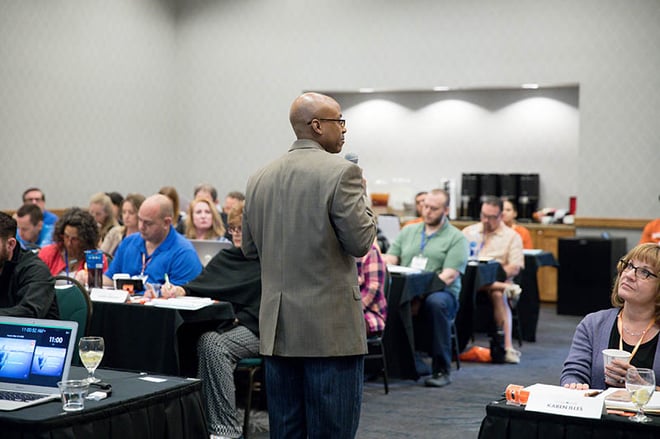 Key Takeaways: Email is an awesome tool, and, no, not to spam people. Top of mind awareness can always be increased with little effort through email drip campaigns that involve storytelling, social proof, and testimonials.
You will not stay top of mind if you do not follow up with your prospects! #yokology pic.twitter.com/hpAxMQN6RQ

— AMA Las Vegas (@AMALV) July 26, 2017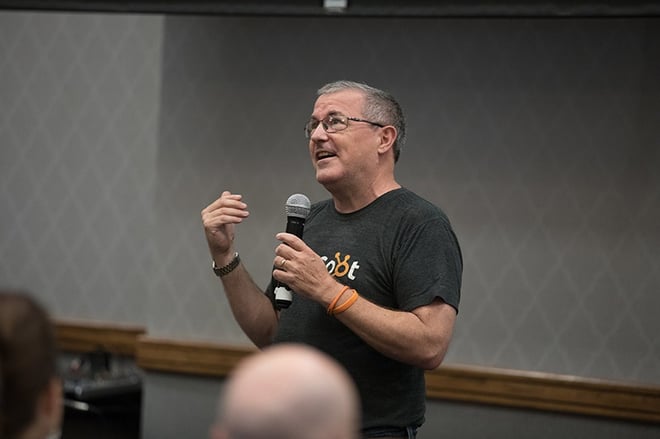 Dan Tyre also discussed creating a sales process that matches how people buy. The inbound sales formula: Identify, Connect, Explore, and Advise.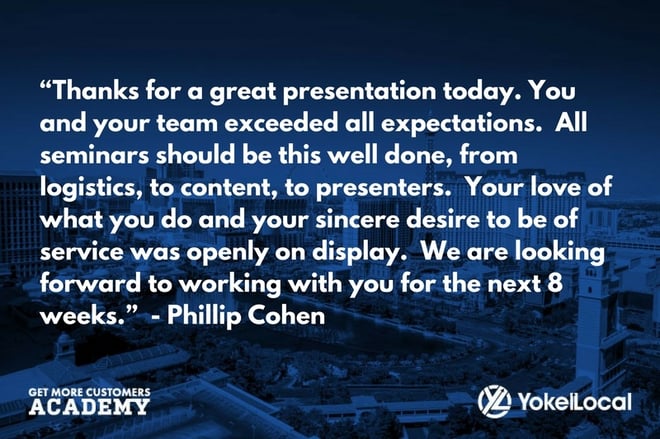 Module 5: How to Delight More Customers and Get More Referrals and Repeat Business
Stormie follows up with an assertion: A sale isn't the end of your relationship with your customer.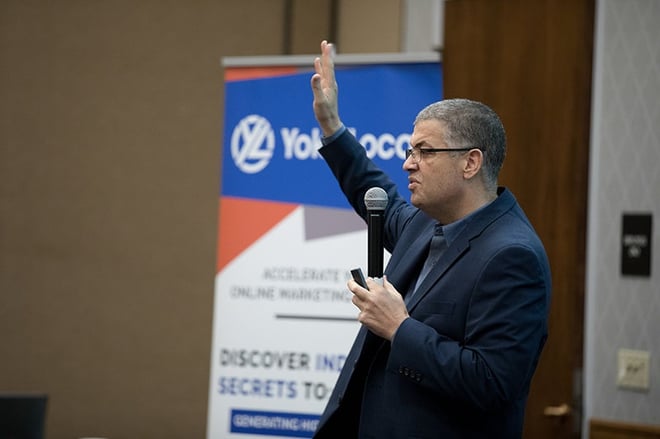 Key Takeaways: You should have a strategy in place to communicate with your customer after the sale. This turns your customer into an advocate and an advocate into an influencer that generates business. In turn, this improves your online reputation with good reviews on review sites.
Module 6: How to Scale for Growth
Stormie concludes the event with the last module on how to put all of the previous strategies into place. He discusses the different options from hiring in-house professionals to outsourcing key aspects of the process and the different tools that are available for those endeavors.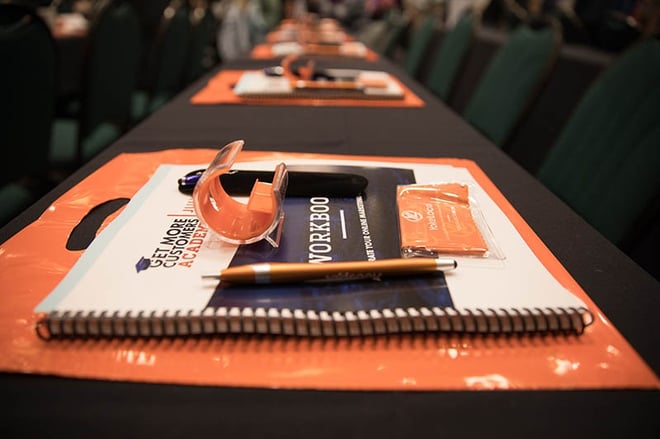 #yokology great workshop learning a lot to help my clients & #pimedia Always have to keep learning pic.twitter.com/snYyemBgL7

— Debbie Harris, MA (@DebbieLHarris) July 26, 2017

Click to Enlarge
The Get More Customers Academy LIVE event was a smash success, and we are so grateful for everyone who attended, everyone who volunteered or partnered with us to make this happen, and of course our amazing team.