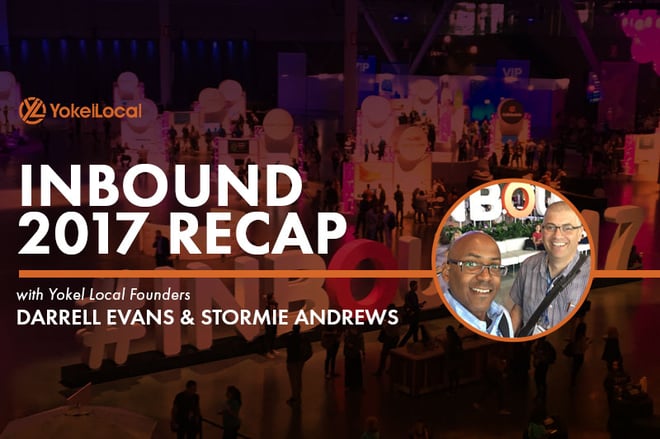 Our founders Darrell Evans and Stormie Andrews have headed back east for the HubSpot annual Inbound conference. Here are their daily thoughts and key takeaways from #INBOUND17.
---
---
Before #INBOUND17 officially kicked off, Darrell and Stormie's attended #PARTNERDay. During this time, they had the opportunity to network with and learn from other Hubspot Agency Partners and get the inside scoop on new product features.


Click here to see our recap of #INBOUND16.


Up first, Darrell's thoughts on "Blogging in 2017."
Blogging everyday in 2017 is not only hard but ridiculous without the right content strategy. #Inbound17 @YokelLocal pic.twitter.com/ruSXJNzJPT

— Darrell Evans (@Darrell_Evans) September 27, 2017
---
INBOUND Day 1 - September 26, 2017
---
The buyer's journey is more like the game Candyland than it is a funnel. Marketing would be so much easier if they encountered a pain, searched for a solution on Google, found your product or service, and bought.
But it's not that easy.
For years, Inbound has led marketers and businesses down a path of using content as a means of establishing trust, credibility, and being helpful.
We'd write an in-depth ebook or whitepaper, put it behind a landing page, and ask for the visitors' information in order to give them the value.
This model is being flipped on its head because buyers are not only savvier, but they are more demanding.
---
Darrell's Recap & Thoughts from Day 1
---
According to Brian Halligan, CEO of Hubspot, they are more interested in:
How you sell vs. what you sell

Light touch over heavy touch

Word of mouth over your mouth (LOL)
Now more than ever, your buyers want to be delighted.
This means more quality sales conversations over quantity. It means doubling down on content quality over mass content production.
Dharmesh Shah, Co-founder and CTO of Hubspot enlightened us on a few inside Hubspot studies showing the conversion rates of customers through various connection points within the Hubspot sales framework.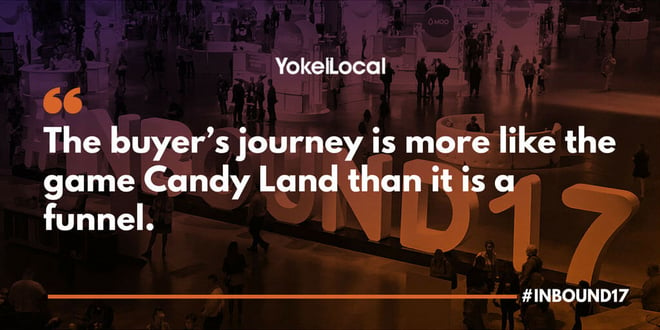 Surprisingly (or not), the highest conversion rate was through their messenger app. This beat their meetings app and crushed their landing pages.
Dharmesh added, "Whenever 1 billion people do anything, it's time to pay attention. He's talking about the notion that your prospects want to be able to chat your company about whatever is on their mind 24 hours/day.
You may be thinking, "My business isn't open 24/7."
But Google is.
We're in a world where it's becoming harder to manage all of these touchpoints in the buyer's journey because it's not linear. Frankly, I don't think it ever was.
The world of marketing technology has experienced tremendous growth so there is no shortage of tools to help you manage every stage of your buyer's complex journey.
However, none of the tools matter if you haven't thought through your overall strategy.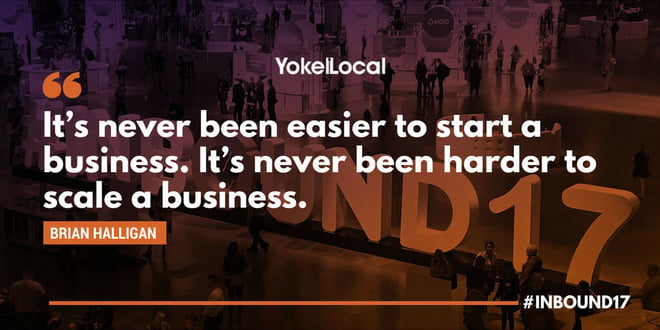 Things to consider:
What are your revenue targets?

What resources are available to hit those targets?

Is your marketing talent (in-house, outside agency) capable of helping you reach those goals?

Where are your buyers now?

If they walked into a problem you could help them solve, will they know who you are and how to find you?

Where is your buyer online during the unaware, aware, solution aware, your solution aware and decision stages?

How will you delight them during their sales experience will they encounter with your company?

How will you measure it all so you know what to improve on and what to stop doing altogether?
These are just some of the critical questions you should be asking yourself now as you plan your marketing strategy for next year.
As Brian Halligan said, "It's never been easier to start a business. It's never been harder to scale a business."
Want to chat about your scaling potential with inbound marketing, let's chat.
---
Stormie's Recap & Thoughts from Day 1
---
#INBOUND17 Getting into the mind of your customer! pic.twitter.com/DlVJvSHufG

— stormie andrews (@StormieAndrews) September 26, 2017
Customer expectations are higher than ever before. Why? Because stuff is just really really good now. Because the customer experience is the product. The human experience is the brand.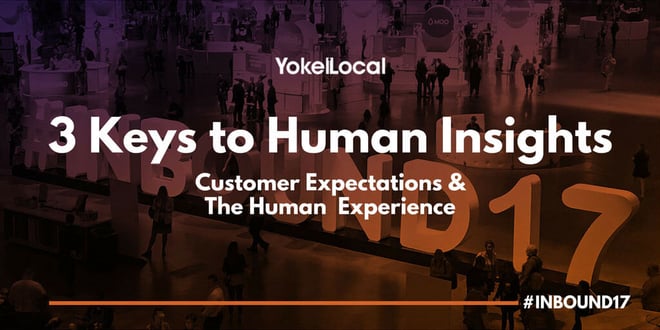 Here are 3 Keys to Human Insights:
1. The Rule of Biased Perspective
Every brain thinks they put the customer at the center of their thinking, but there was a study from Stanford University that proves otherwise. They broke people into two groups: tappers and listeners. Tappers were given 100 popular songs to tap the music out to the listeners and asked to estimate how many of the listeners would know the song they're tapping out. The tappers guessed 50%. In reality, the listeners only got 2.5% of the songs right.
You see without context the tappers were off. Businesses are often a lot like tappers.
2. The Rule of Unexpected Offering
A study was performed at restaurants, giving patrons mints with the check. If one mint was given, the average tip size increased by 3%. If two mints were given, the tip size increased by 14%. If two mints were given and the server comes back to tell the guest how special they are and give them a couple more minutes of their time, the tipping increased by 21%. You see, they gave something unexpected and personal.
3. The Rule of Reciprocal Fairness
Transparency, fairness, and authenticity. This rule is best illustrated with something called the ultimate game.
You have two people in the study: Person A and Person B. You tell them they get to split $100.
In the study, you give Person A $100 and tell them to designate how much of the $100 he wants to give Person B. Person B gets a one-time opportunity to accept or reject the offer.
If, for any reason, Person B does not accept the offer, the $100 is taken away, and both people get nothing.
This is where it gets interesting. It seems $30 is the magic number. If the offer is less than $30, Person B usually rejects. The emotions take over from logic, causing people to reciprocate the unfairness of the offer. Person B feels like the offer was so unfair that they're both better off getting nothing. Even if they offered $1 to Person B, they are still ahead, yet Person B will take them both down.
---
INBOUND Day 2 - September 27, 2017
---
The day opened with Michelle Obama. She had some great things to say about successful managing.
"Life teaches you grace." Michelle Obama #INBOUND2017 @YokelLocal pic.twitter.com/rrZDBnCKay

— Darrell Evans (@Darrell_Evans) September 27, 2017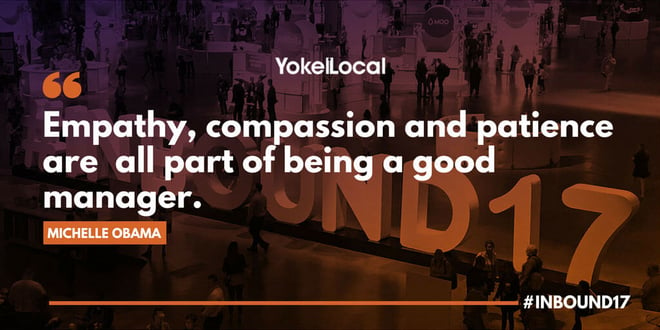 ---
Darrell's Recap & Thoughts from Day 2
---
Yesterday, we heard that Hubspot analyzed over 3,000 blog posts they'd written on their blog. Their goal was to find out if they could apply the Pareto Principle to the lead generation from the posts.
The hypothesis was that 80% of the leads would come from 20% of the content they'd written. What they found was that 93% of their leads came from just 7% of their blog posts.
Today, Larry Kim, Founder of Mobile Monkey and former Founder of Wordstream gave an inspired and data-driven talk on what he calls Unicorn Marketing. He discussed his findings on a similar experiment to Hubspot's.
Larry worked hard to produce 300 pieces of content in 2016. He too wanted to see if there was a formula to finding what he calls "unicorns."
Sidenote: Larry is overly obsessed with Unicorns.
What were his results?
He found that out of 300 pieces of content he produced, only 8 drove the majority of his results. If you're blogging today, check your stats, and you'll likely see the same.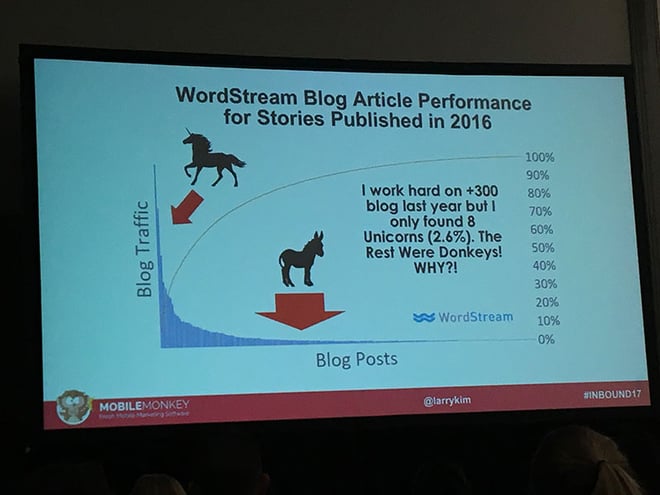 Here on the Yokel Local blog, we are experiencing the same thing.
Larry calls these breakout posts that generate the most traffic and leads as "unicorns." The rest he terms as "donkeys."
He then shared with us his ideas around re-aligning the definition of quality content as it relates to the Facebook and Google algorithms (both paid and organic).
98% of our marketing efforts are going nowhere.
Google and Facebook are rewarding Unicorns and punishing donkeys.
So what are the key attributes to that make these posts unicorns and what steps can you take to create them on your site?
Generally speaking, engagement rates and click-through rates creates your unicorns on your site and on social media.
You'll find these usually within the top 3% of the content you have created.
There are also two other factors:
1. Relevance
2. Cross-channel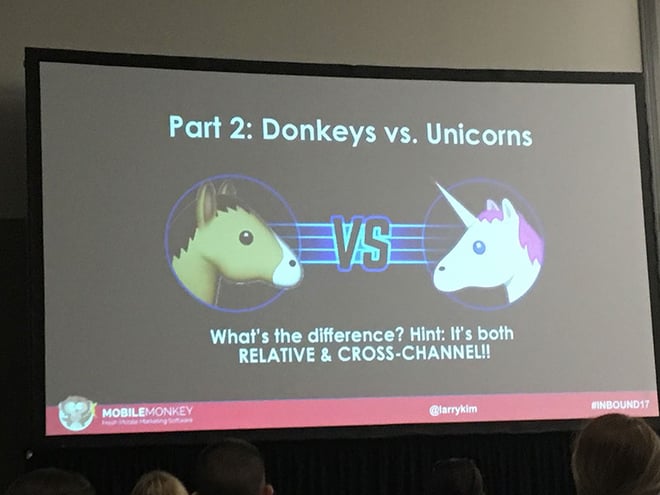 Simply put, the posts are highly relevant to the end user and thus engagement is the key cross-channel.
What does this mean?
Your posts must do well across multiple platforms.
The only way you're going to know if this is the case is if you put paid dollars behind each post you've identified as a unicorn.
Engagement rates are the key "unicorn" metric to higher search rankings, higher email open rates, higher CTRs, and higher conversion rates.
The problem is that us marketers believe that every piece of content is worthy of being a unicorn. Larry said, "marketers must remove their bias to discover unicorns."
What's a good engagement rate? One that is 2-3x engagement rates of the relative sample set.
This applies to a social media post, an email, a blog post, a PPC ad etc.
The goal is to identify these top 3% pieces of content and then 10x your efforts to scale around this content.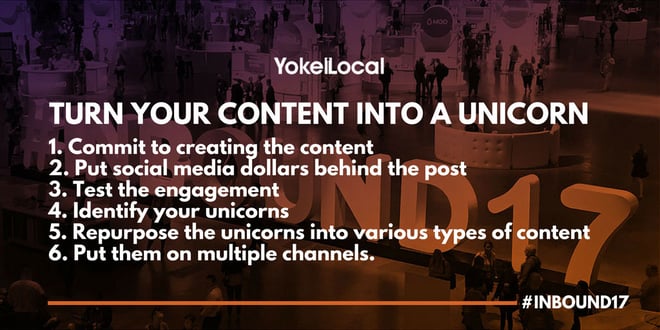 Here's an example:
You write a post on XYZ and you see that engagement rates qualify it as a Unicorn. Don't go back to the content calendar and create a different piece of content, do something like the following:
Create a similar piece of content for another website, blog or industry site
Boost this content using Facebook, Twitter, and LinkedIn
Create an infographic around the content
Create a video version of this content
Do a webinar teaching this content live
Do a Facebook Live discussing this content
Do a follow-up story around this content
Why?
Because if the unicorn content is working on one channel, it will work on other channels, but you have to repurpose the content to get it there.
Yes, this a bit of a numbers game because you have to commit to creating the original content in the first place in order to find these unicorns.
The Conclusion
Content marketing is getting harder and harder. Larry Kim's Unicorn Marketing Strategy lightly discussed here offers marketers a new way to think about increasing website traffic, social and brand affinity. It will also drive results to the bottom line that the C-suite will love.
Commit to creating the content, put social media dollars behind the post, test the engagement, identify your unicorns, and repurpose the unicorns into various types of content and put them on multiple channels.
Go back and look at your top performing blog posts right now. How many of them are there? Instead of creating a bunch of new content, why not execute Larry's strategy. To see all of his slides, click here to download them.
---
Stormie's Recap & Thoughts from Day 2
---
1. Video is the most effective tool you have.
Video has the ability to move us emotionally so we need to get down to the human level.
Video is measurable therefore measure it. View counts or not enough. More important to know who is watching, what they're watching and how long they're watching it.
Case Study:
HCSSA use video throughout the process of the journey. Here's what they discovered:
44% reduction in the sale cycle

60% growth in 2016, and they had no video in 2015.

90% of SQL engaged and video.
They redesigned their website to make it a video-first experience as companies are using video grow revenues 50% faster.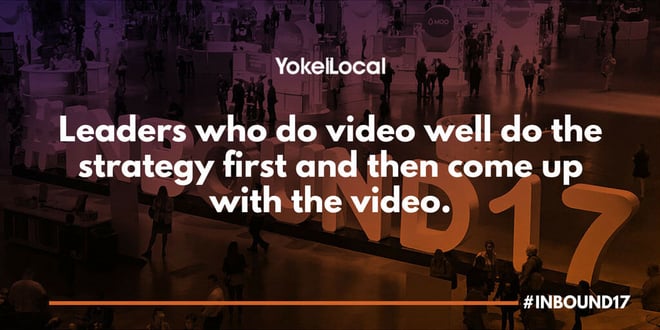 2. Think outside the box to create experiences.
Sync video with other content. Don't make video a silo.
3. Make videos personal
The typical way of making videos is to speak to all audiences. A better way is to make a video into personalized experiences. Multipurposing video along with content that adds meaning or different storytelling to the video can help align with a specific buyer persona.


4. Take video live and multiply the ROI take events and live stream them.
Think about:
The pre-event experience

The during the event experience

The postevent experience.
Also think about shooting internal events. Live events have 3x the engagement over on demand.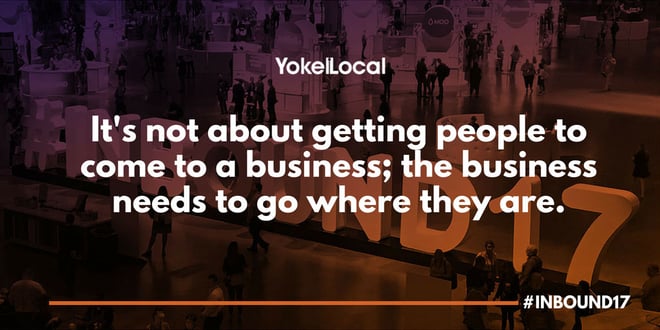 5. Expand ROI by expanding reach.
It's not about getting people to come to a business; the business needs to go where they are.
Xero case study - They did a good job of getting video out socially. Their campaign was called "one more day campaign." It got over 1 million views.
Lowes case study - They realize 30% of millennials have already cut the cord. Lowe's created a weekend series and launched it on Apple TV. Each video tied to a specific project that someone can do over the weekend and has links to the products inside the Lowe's store that they could buy for the project. With 3 million views, it was so successful they've already scheduled for season two.
Leaders who do video well do the strategy first and then come up with the video. When you think this way, you are forced to come up with the story. Once you have the story in the video, you pretty much have all the other content you need.
---
INBOUND Day 3 - September 28, 2017
---
As Inbound 2017 wraps up, there is a clear reminder that sales and marketing are harder today than ever before.
Why?
Your buyers are:
Ignoring TV and radio ads, billboards
Millennials don't even know what a newspaper is
Consumers don't answer the telephone if they don't recognize your number
Not even seeing your direct sales emails because Google's spam filters are protecting them
Many prefer texting over talking
They are allowed to block your messaging with the click of a mouse.
They are spending time in places that didn't even exist 10 years ago like:
Facebook
Twitter
Instagram
Snapchat
LinkedIn
And if this wasn't enough, add AI (Artificial Intelligence) into the world of the consumer.
Alex, Amazon's cloud-based voice service will eventually change the way we get information.
Questions to think about:
Will search engines even exist in 10 years?
Will mobile phones exist in 10 years?
Will consumers purchase the way they purchase today 10 years from now?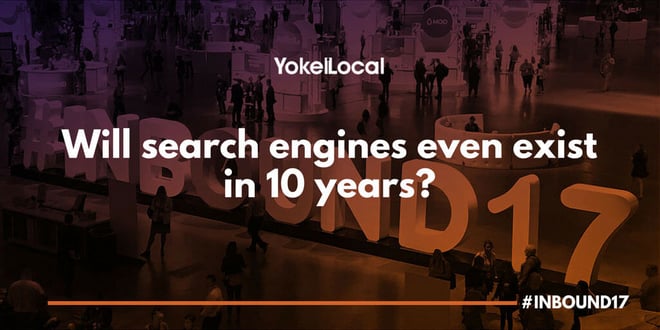 We don't know for sure. What we do know is that technology changes are happening faster than ever and if you aren't paying attention, you won't just lose. You'll be slaughtered.
Gone are the days when you can take your $100,000-$1,000,000 ad budget and hide behind creative designs that don't produce results.
Pushing media buys for the sake of getting your message in front of eyeballs and repeating the process until the budget is spent is inefficient.
There's a better way.
The better way starts with having a growth system installed into your business that allows you to build a relationship with your ideal prospects and customers long before they are ready to purchase at scale using smart marketing.
It then moves to a personalized nurturing process driven by touch points designed for them where they want to engage using smart sales techniques.
You then enable your sales, marketing, and customer services teams to delight your customers on their terms in a way that enhances your brand loyalty.
All of this isn't easy, but with the right growth stack in place, you're well on your way to thrive in these changing times.
While starting a business today has never been easier. Scaling a business has never been harder.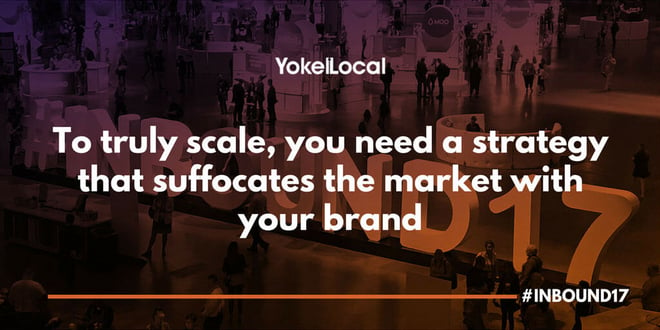 Growth hacking tactics will only get you so far. To truly scale, you need a strategy that:
1. Suffocates the market with your brand
2. Attracts them to your website and digital footprint
3. Gets them to raise their hand to request your expertise, product or service
4. Nurtures them smartly through their buyer's journey
5. Build brand loyalty and drive repeat and referral business
6. Installs the systems in your business that allow for scaled growth
If you want deeper insight into this full funnel strategy, download this one-page guide.
Disruption is happening every day.
Netflix crushed Blockbuster
Uber disrupted the taxi industry
Amazon changed commerce forever
There's a company trying to disrupt you right now. Isn't it time you became the disruptor?
It's time to think about entrepreneurial and business growth, not just marketing and sales.
We can't do the same things over and over and expect different results. We do this because we are afraid of the risks of doing new things.
Whether you're investing $50,000 or $1,000,000 per year in your growth program, you need to feel safe.
We get that.
Which is why we offer a 100% no obligation, no risk growth assessment.
If you want to discuss your 2018 and beyond growth goals, schedule a time here.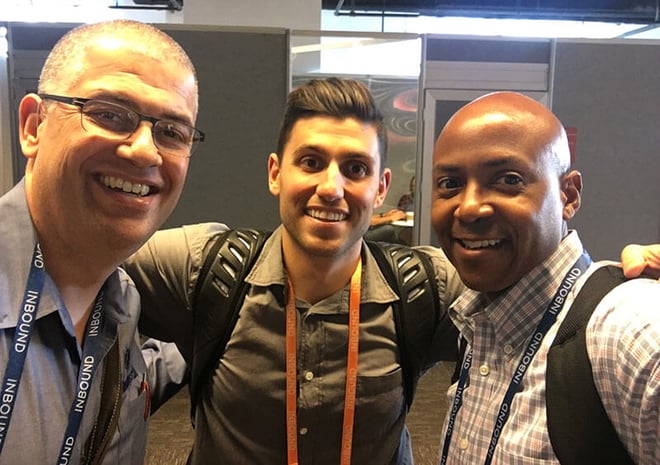 We'd like to thank Chris Sergi for all you've done to support us in our journey with Hubspot. We wish you the best in your next endeavor. We look forward to our continued relationship with Guillaume Delloue, Sean Dazet, Channing Ferrer and our new Channel Account Manager, Bryan Mueller and the rest of the Hubspot team.