Content management systems (CMS) have revolutionized online marketing, enabling people with little technical background to publish amazing websites. HubSpot and WordPress are the two platforms you probably hear most about because they dominate the CMS market.
The platforms may seem similar at first but could not be more different. In the simplest terms, if HubSpot is the Swiss Army Knife of inbound marketing, WordPress is the butter knife. Keep reading to learn the ins and outs of HubSpot vs WordPress.
Review: What Is HubSpot?
Have you heard about the popular inbound marketing platform but aren't sure what HubSpot does or how it helps businesses? HubSpot is a CRM and marketing automation platform with a built-in CMS. The all-encompassing HubSpot software can automate every aspect of an inbound marketing strategy including lifecycle marketing, sales, content management, analytics, social media, and customer service. With dozens of HubSpot tools, you can collaborate seamlessly across all stages of the buyer's journey to help scale a business and capture leads.
HubSpot CMS Hub
HubSpot transitioned into content management by introducing the cloud-based CMS Hub. CMS Hub ensures marketers have the tools they need to create websites focused on the customer experience. You can easily develop content, optimize a site for conversions, and gain insight into performance in one place.
Review: What Is WordPress?
WordPress is an open-source website (AKA anyone can use WordPress for free) and blogging CMS platform that includes basics like content creation tools, but requires plugins for additional functionality such as sitemaps, SEO, and analytics. Originally a blogging platform, WordPress has become one of the most popular CMSs for blogs and businesses of all sizes. With WordPress, web developers have a wide range of versatility with how they can design websites and blogs, but site builder options are also available for users without coding skills. However, WordPress is strictly a CMS platform.
HubSpot vs WordPress: What Is The Difference?
Now that you have an overview of HubSpot marketing automation and WordPress CMS, let's take a deeper look at some key functions you would use regularly to build and optimize your website.
WEBSITE EDITING
Building a website is rarely a set-and-forget activity. One of the benefits of a CMS is the ability to make website edits and publish those changes on the fly without having to rewrite a bunch of code. In fact, the platform may not require coding at all, as you'll discover wrangling with HubSpot vs WordPress.
HubSpot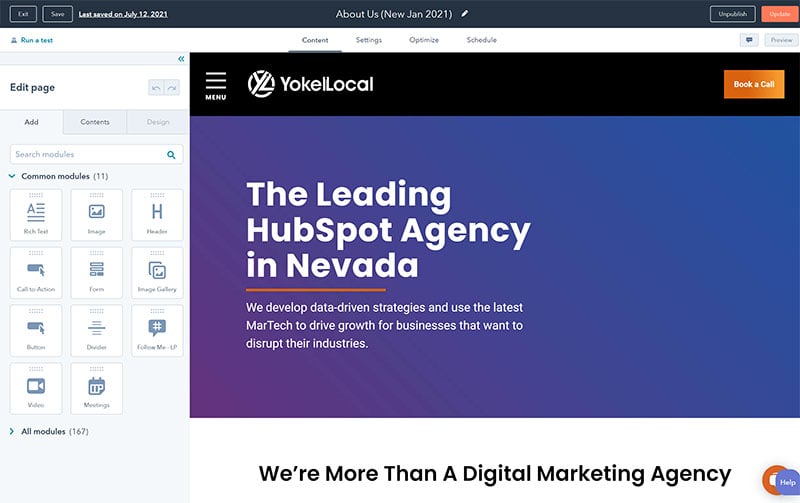 HubSpot is significantly easier to edit than WordPress because of its ability to make on-page changes without coding and its drag-and-drop editor. You don't have to be technical at all to make important edits as needed. However, you can absolutely run wild with code if you have the skill, desire, or team of developers!
WordPress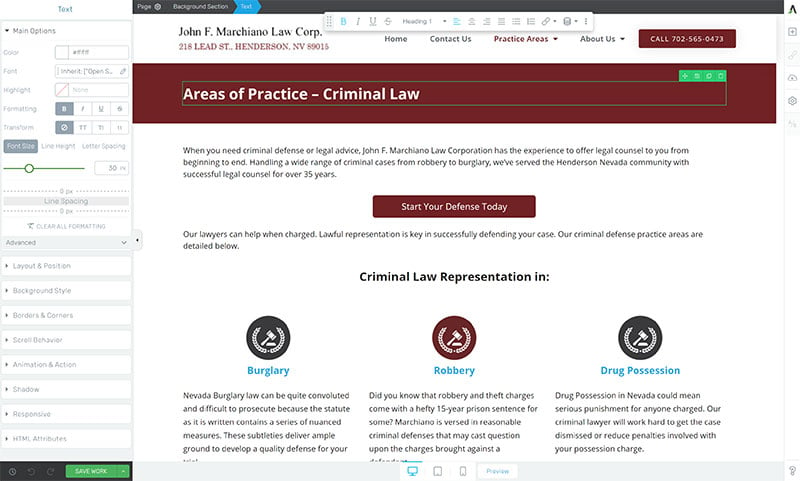 Editing is more of a mixed bag with WordPress. The availability of editing features depends on the theme you choose. Most free WordPress themes don't allow you to do much customization without editing code. But many paid themes come with a custom editor that helps you manipulate individual parts of your page. If your theme doesn't have a built-in editor, you can find a plugin to add one.
Page Building
With both WordPress and HubSpot, you can add pages about your business and products or services without too much fanfare, but some may require using a unique template or plugin.
HubSpot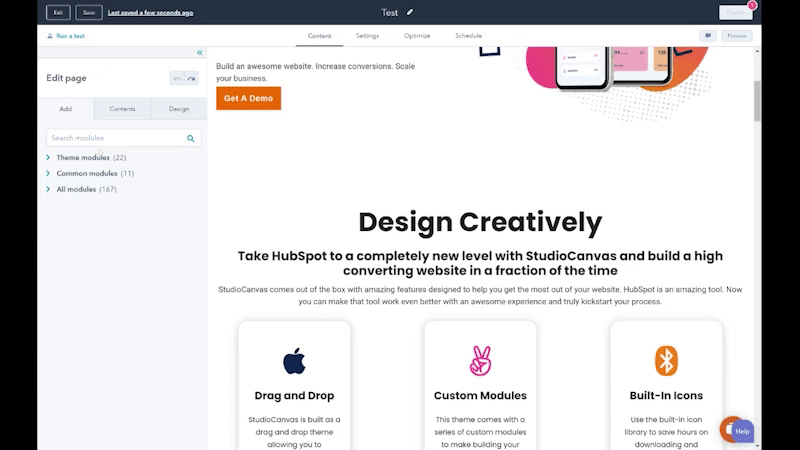 There are a variety of ways to build pages on HubSpot. There is a drag-and-drop page editor function for simple page designs, a template editor with a grid-based layout system, and a code-based template and module system ripe for web developers.
WordPress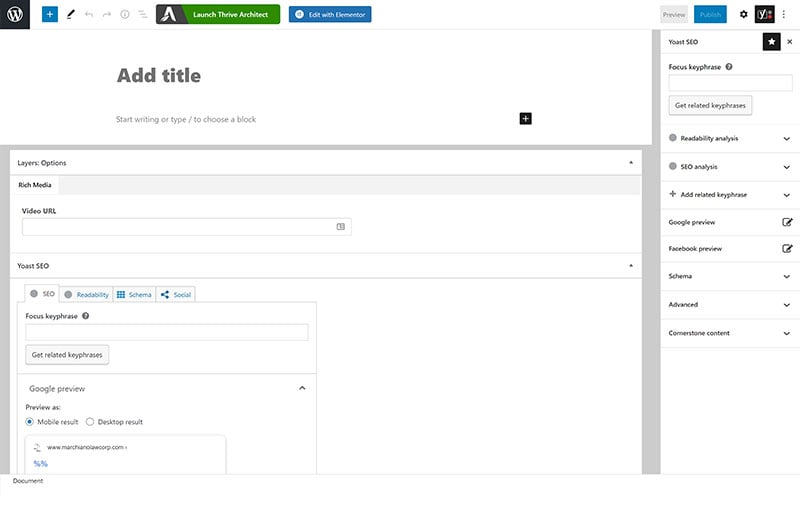 WordPress does not have an easy way of building custom pages without using a theme or plugin. Most new WordPress themes are fully integrating with the CMS' new default page editor making more complex layouts and features an increasing reality. If your page builder doesn't include an element type with the feature you want, you may find yourself needing to modify code.
Blog
A built-in blog will help drive traffic to your website, provide great social media content, and convert traffic into leads. It's really a tie for HubSpot vs WordPress when it comes to straightforward blogging.
HubSpot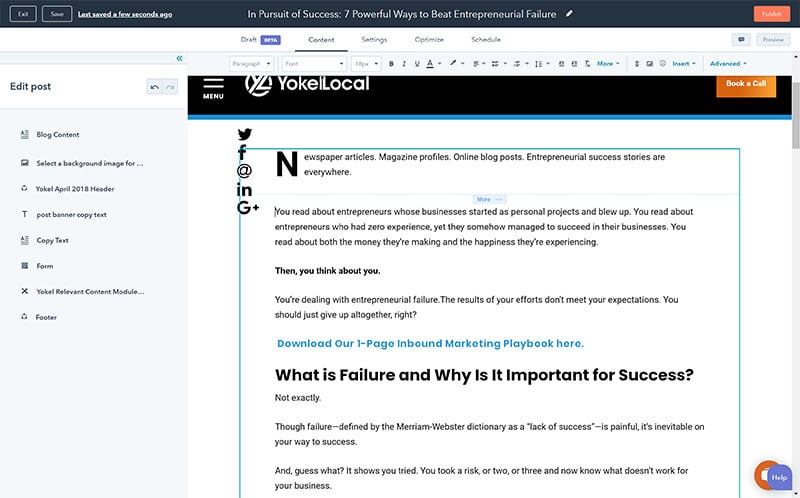 HubSpot's blogging software has pretty much everything you need built-in. You'll find a user-friendly interface to write, optimize, publish, and analyze blog content in one place. HubSpot doesn't require plugins or extra software to deliver your content on mobile or optimize it for search engines.
WordPress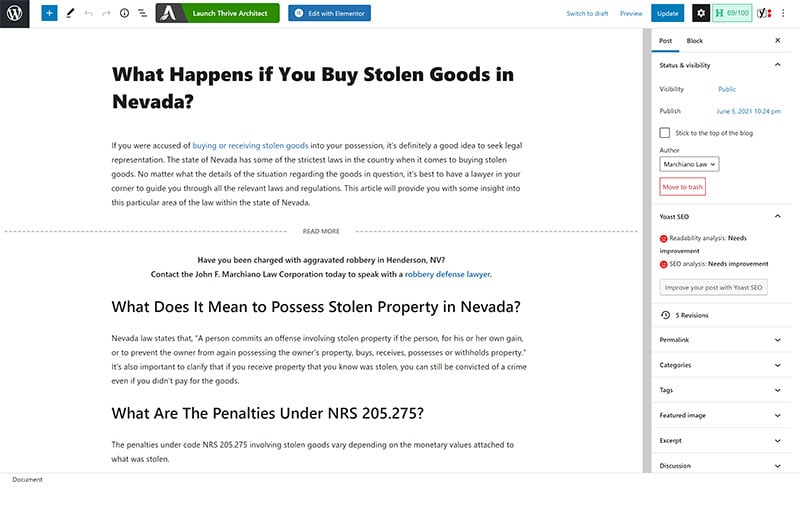 WordPress was originally built as blogging software and perhaps its greatest strength is how easily you can get a blog up and running. You can start blogging using themes from WordPress, but the platform is limited to just standard essentials until you customize it yourself.
SEO
Search engines are more competitive and complex than ever, so it's one feature you should never neglect when deciding HubSpot vs WordPress. Fortunately, both platforms allow for SEO support.
HubSpot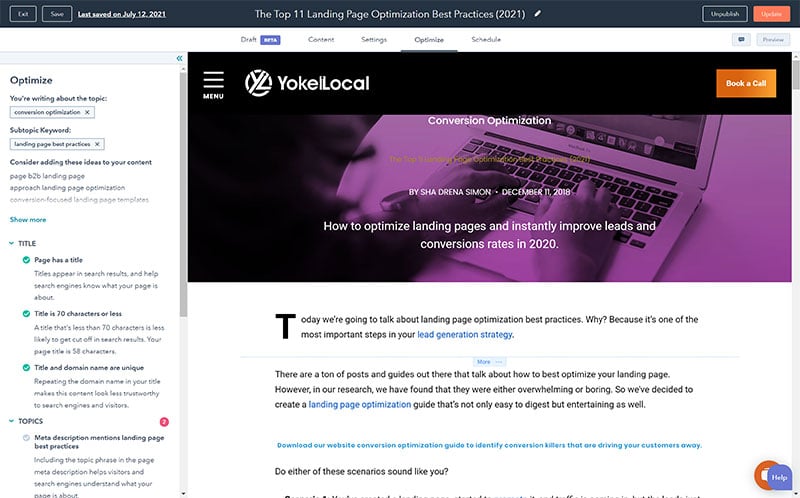 HubSpot provides an SEO recommendations tool, as well as on-page SEO tools with the latest Google algorithm changes built into the blog, landing pages, and website page creation. HubSpot's SEO also includes a content strategy tool to organize your content in a way that is optimized for search. However, there can be SEO limitations. If you're running an e-commerce site and want SEO information pulled from a database, HubSpot cannot accommodate it. But it will scan web pages you do have and give you feedback on where SEO can be better applied.
WordPress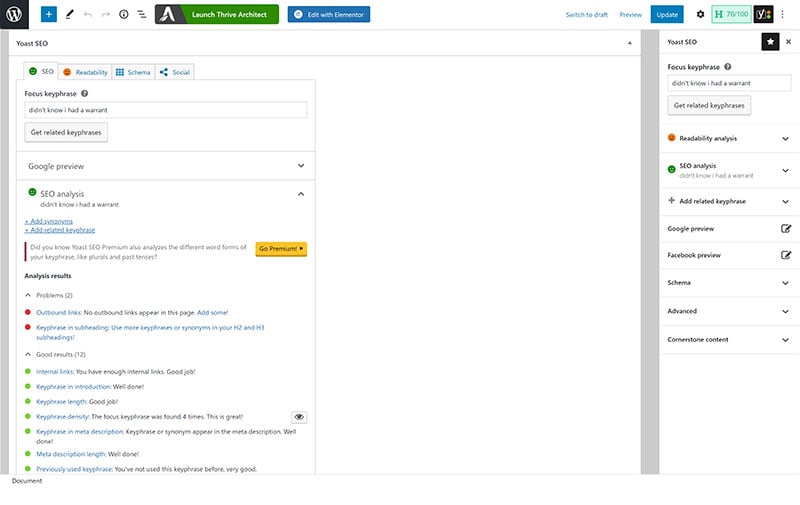 WordPress doesn't come with native SEO functionality, but it does provide several paid and free plugins which can help. The downside is more plugins mean more software management, cost, maintenance, and potential security concerns. The bottom-line: you'll need to install a plugin such as Yoast and configure it to the latest SEO standards.
CTA Buttons
Contact us. Learn me. Sign up. Download now. Those are just a few call-to-action (CTA) examples savvy marketers like you probably use to convince visitors to take a desired action. In HubSpot vs WordPress, both can help you design buttons that boost your conversion rate.
HubSpot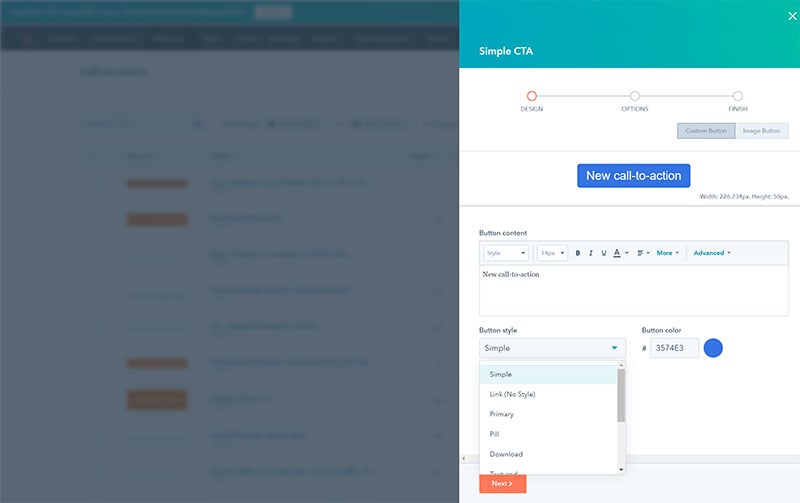 HubSpot CTAs come in a couple of basic formats that you may customize. What HubSpot may lack in button design is made up for in important multivariate testing, smart CTAs, and customization functionality. Plus, it's easy to add these CTAs to website pages built in HubSpot and change the CTAs once they're on pages. HubSpot also provides the critical option of finding the right verbiage, imagery, and colors that speak to your audience.
WordPress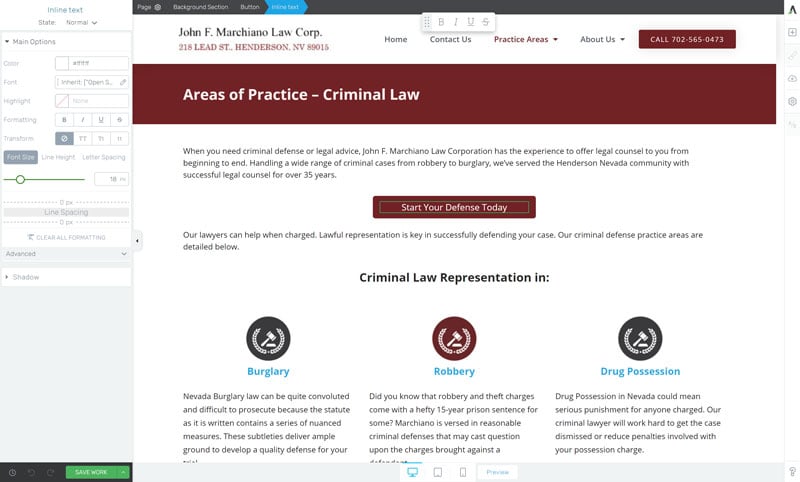 The WordPress CTA button module is like HubSpot's button builder but has more design options and faster speed because it doesn't rely on heavy images. Controls are adjusted with a popup box. The button itself is adjusted live on the page. The module includes customizable zones for the background, headline, description, image, and button. Animation effects can also be added. However, sitewide changes aren't as seamless as HubSpot – you must go to every CTA instance and make those changes individually.
Themes and Styles
Most inbound marketing tools put a lot of weight on custom themes to unlock a site's true potential and rightfully so. Your theme determines your overarching brand and is supported by both HubSpot vs WordPress platforms.
HubSpot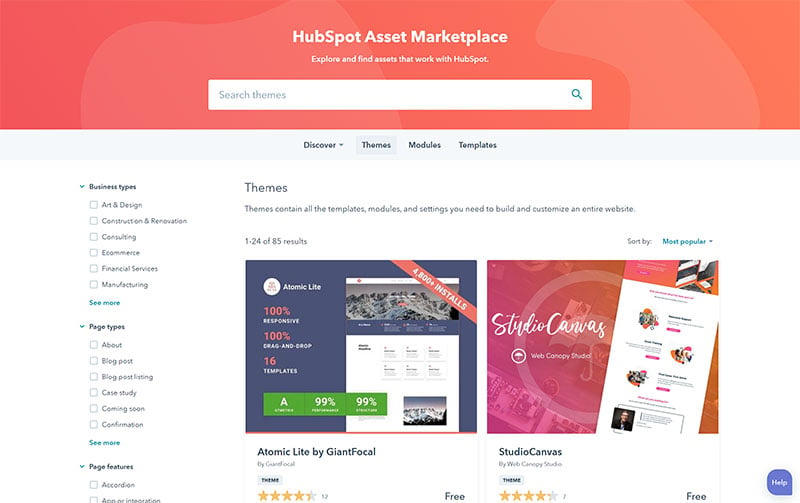 HubSpot CMS has made the customization of website pages much easier for non-developers. You can pick a theme with overall design styles and sample pages or you can design the framework of each page on your own. Themes include a set of pages that can be easily customized with different styling, unlike most WordPress themes.
WordPress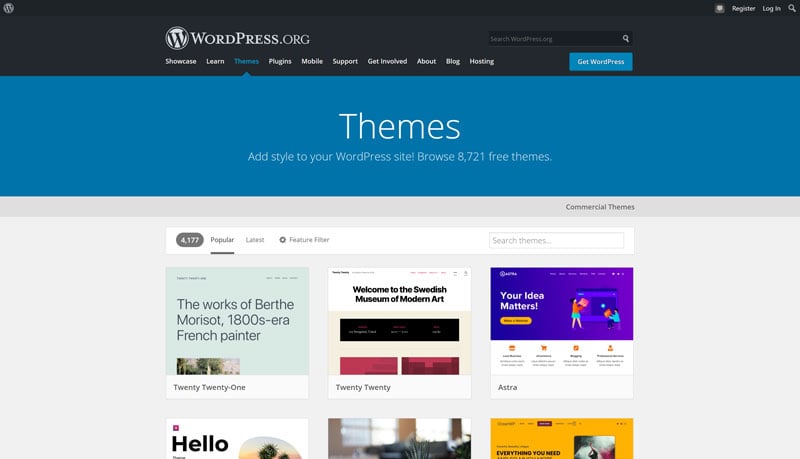 Many WordPress users rely on third-party developers to create their custom themes. They are easily installed on a WordPress site and can be used to turn the platform into something original. If you're a tinkerer and like to mess with everything on your website, this could be the move for you. If you don't want to spend the time to do everything, it can get quite frustrating.
Plugins
A plugin is a collection of code files that can add one or more features to optimize your website, particularly useful for a bare-bones CMS like WordPress.
HubSpot
HubSpot doesn't rely on plugins because it already has most of the features you need. However, CMS Hub has over 650 apps that can be integrated with HubSpot to extend the functionality of your website.
WordPress
WordPress has an ecosystem of over 58,000 plugins to enhance what is already built into the CMS or to add entirely new features to your site. But you must be ready for the additional work and fine-tuning to get everything integrated properly.
Maintenance
Maintenance is an element of a CMS that could come back to bite you if ignored. Maintenance encompasses everything from your average site work to updating plugins to customer support.
HubSpot
As a SaaS (software as a service) CMS, HubSpot takes care of backend maintenance and updates so you can kick up your feet. HubSpot customers also get access to a support team that can be reached via chat, phone, or email 24/7 for any questions.
WordPress
Any responsible WordPress user needs to ensure someone is running regular maintenance work and upkeep on the site. You may want to consider an internal team dedicated to maintenance depending on the size and complexity of your website.
Analytics
A CMS platform with limited analytics won't give you much context on how your content is performing to adjust your strategy. Fortunately, in HubSpot vs WordPress, they both integrate with Google Analytics and Databox, but the similarities end there.
HubSpot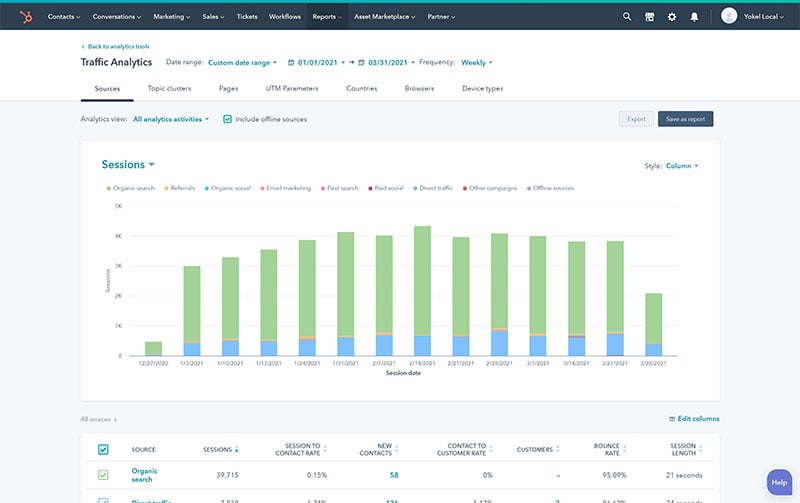 HubSpot includes all the analytics needed to measure the performance of your website and data to track your return on investment. Because HubSpot is also a customer relationship management (CRM) platform, marketers can unearth deeper insights and more actionable data. For example, it's easy to build lists of contacts who have visited specific pages on your site, downloaded content offers, or interacted with you via live chat.
WordPress
WordPress includes limited reporting on content, such as page views, but requires another solution for deeper analysis. Many marketers choose to use WordPress in addition to a paid analytics tool or Google Analytics. The drawback here is an incomplete picture and data silos that don't speak to one another, leading to less actionable metrics. If you want to track user activity and tie marketing efforts directly to new contacts, you'll need to connect a CRM tool.
Price
Your budget is a huge determining factor for choosing HubSpot or WordPress. The total cost of ownership between the two platforms is very different in terms of building, hosting, and managing a website.
HubSpot
As a SaaS product, HubSpot has free plans and premium plans with a recurring cost collected monthly or an annual basis. HubSpot offers a free CRM and other free features, while its different Hubs have different levels of costs, depending on the Hub and the features included. With this initial cost in mind, 72% of customers said sales increased in the first year, according to HubSpot.
WordPress
As an open-source platform, WordPress' sticker price is free, but not really. There are necessary costs to operate a website that add up quickly when leveraging WordPress. Features such as hosting, security, plugins, and regular maintenance to keep your site safe add up quickly. For example, if you were to install 24 of the most popular WordPress plugins, you'd pay between $287.60 and $1,338 per month.
Security
Security is one of the most important aspects to consider with any CMS. As a marketer or business owner, you must keep your customers' data secure while simultaneously protecting your company's reputation.
HubSpot
Website security is handled for you by HubSpot and you are less prone to attacks because of its internal structure. CMS Hub comes with a standard SSL (Secured Socket Layer) certificate, web application firewall (WAF), and 24/7 security & threat monitoring out of the box. SSL is the HTTPS:// you see in the URL or lock symbol next to a domain in an address bar.
WordPress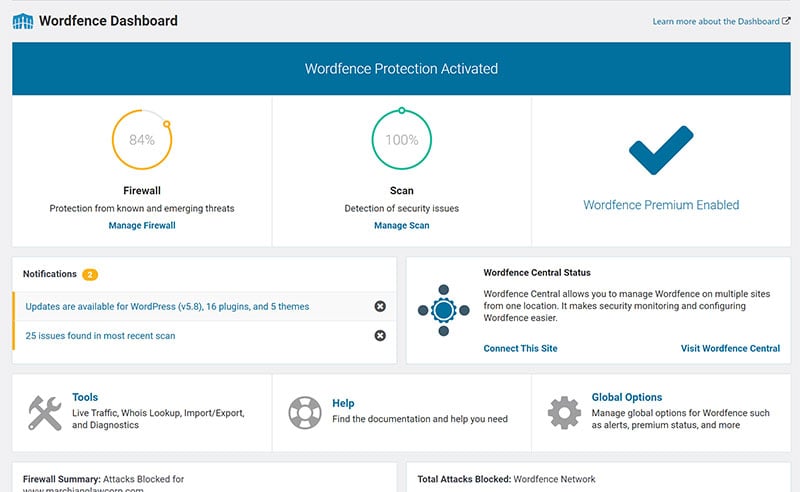 Since WordPress is an open-source platform, there will always be more security risks. You must stay updated with changes in WordPress releases because using an outdated theme or plugin can make your website more vulnerable to attacks. Fortunately, there are plenty of plugins that can help you with security.
Data Storage & Data Exporting
Access to data is important to make your own manual backups or to transfer your website from one host CMS to another. Fear not, these two CMS powerhouses care about making data accessible.
HubSpot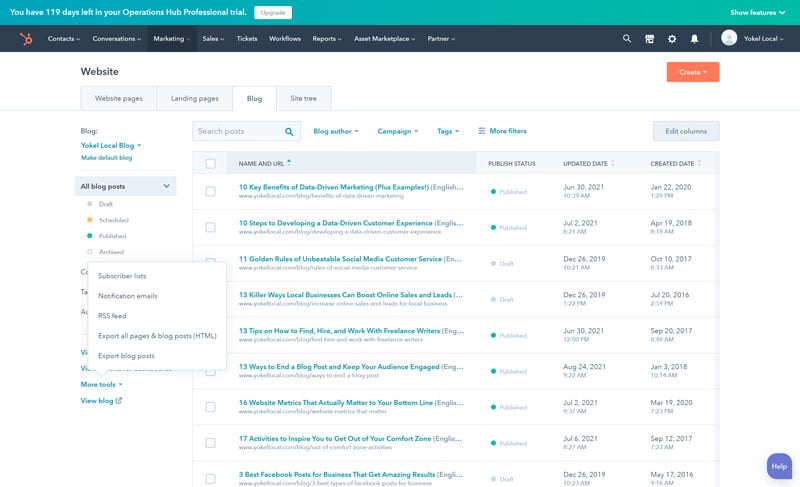 HubSpot allows customers to export nearly everything from their marketing CRM and CMS, including page performance data, form submissions, published social media messages, and lists of contacts.
WordPress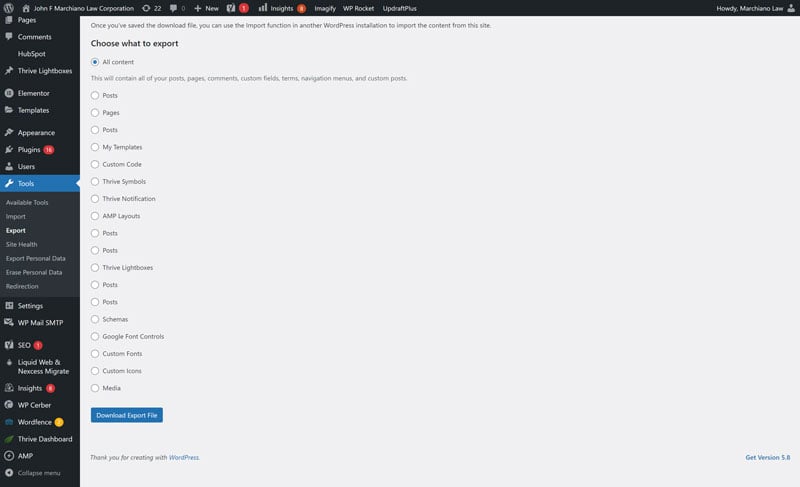 WordPress provides users with unrestricted access to data including pages, posts, comments, and custom fields because it's open source. Regardless of the platform, you may want a developer's eye because exporting all data may require multiple files for different data types.
HubSpot vs WordPress: Which Is Better For Your Business?
Deciding which platform is best often comes down to your budget and marketing objectives. WordPress is a great option for smaller companies that aren't quite at the point of scaling. With plugins, you can also accomplish as much in WordPress as HubSpot.
With HubSpot, many people appreciate its convenience and versatility. If you're a larger company with a digital marketing agency, sales team, and heftier budget, HubSpot is most likely a better fit because it already has everything you need. As comprehensive inbound marketing software, HubSpot has a clear advantage over WordPress.
Interested In HubSpot? Get a Free Demo!
If you are struggling to find the right content management system or wondering where to start, Yokel Local has a team of experts who have been in the ring with both platforms. Check out our free HubSpot demo or contact us with any questions about HubSpot vs WordPress and we'll find you a winner!