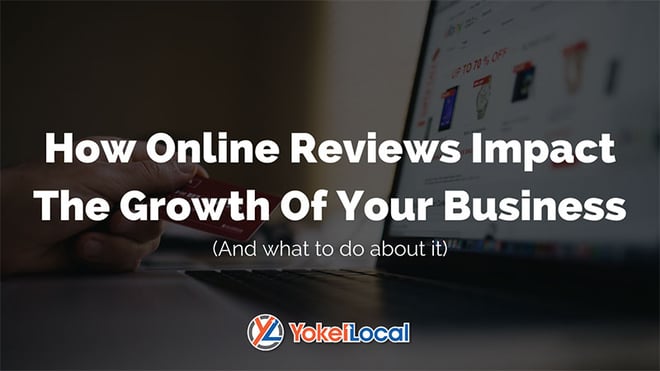 Did you know that online reviews have a direct impact on the growth of your business? If you have little to no online reviews, you are missing out on a tremendous opportunity.
Video Summary: 3 Strategies for Boosting Your Online Reviews
Before you doubt the power of online reviews, consider the following statistics:
91% of consumers report that they use online reviews as part of their decision-making process when buying local products or services online
84% of people trust what they read from online reviews because they think of those reviews as reviews from their friends
Going from 3-star average rating to a 5-star rating in Google Maps could generate 30% more traffic to your website
Having a 5-star rating increases new customer acquisition 39% more than a company that has a 1-star rating
56% of consumers select a business if they have positive reviews tied to their Google local map listing
There are three strategies for boosting your online reviews:
Look at your past customer database, call about ten of them and ask if they use Google or Yelp, and if so, if they could leave an honest review.
Think about how you can incorporate reviews into your sales process.
Look for every opportunity to ask your customers for a review
It doesn't matter if you're ranking at the top of Google if you don't have the reviews to coincide your with Google Rank, but your competitors do, they will beat you out for website clicks almost every time.
Watch the video above, for a complete overview the impact online reviews can have on the growth of your business,
For more strategies on how to optimize your online presence to successfully grow your business, grab a copy of our 6-step marketing playbook at yokellocal.com/playbook.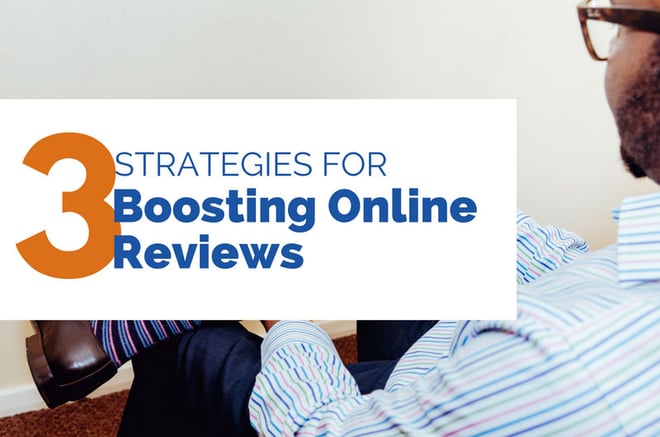 Video Transcript
Hey, how you are doing? I'm Darrell Evans here co-founder of Yokel Local Internet Marketing. Today is quick short video. I want to talk about the impact of online reviews as it relates to the click through rates on your search engine, listings and search engine rankings.
Do you know that Ninety-one percent of consumers today report that they use online reviews as part of their online decision-making process when they're searching for products and services local businesses online?
Eighty-four percent of people typically trust what they read online reviews of people they don't even know because, in their mind, they think of those reviews as reviews from their friends.
As odd as it may sound, think about it: if someone is coming into your business, and they don't, know about your product or your service and they see twenty, thirty, two hundred, five hundred reviews some good, some not so good, some in the middle but if they have at least see your online presence, has generated experiences with other people, your brand-new customer, your prospective customers, would likely wouldn't want to do business with you.
So here's one the statistics and key takeaways that I want you to take away from the study that I just read through.
Okay, so going from a three-star rating to a five-star rating could generate about thirty percent more clicks to your website for the search engine. That's specifically from the Google Map section. Having a five-star rating, it has been reported to have increased a business thirty-nine percent new customers so not only twenty-five percent more clicks but thirty-nine percent more customers than a company that has a one-star rating. Fifty-six of consumers, select a business if they are in fact positive reviews tied to their Google local map listing.
So if you don't have currently Google reviews on your map page, then you certainly would want to take advantage of that. There are a couple of other ones that are really, really, related to what we call some of the search engine results that a lot of our clients wants so if you go to an SEO provider, or your hiring a company like where organic search presence is part of what you're desire is to get in front of those people when they're searching for products and services what most of you aren't aware of and don't know is that Google rankings of your website on a particular search, part of that factor is how many people are clicking through from the twenty listings on the page so there are three or four ads at the top and there are three or four map listings, they're going to be ten organic listings or another four ad listings at the bottom depending how your page is laid out when you see this video. But if you look at the completion on the first page, just being on the page of Google is not enough, you've got to earn the click from that particular search query and that impacts third rankings quite significantly, we've seen in six to twelve to even eighteen months in Google search engine.
So as a wrap up of this video, I got a call of action for you that I need you to take seriously,
It doesn't matter what type of company and how good the company is that you're driving your organic search presence up or your map listing presence up. If your online presence, in terms of the number of reviews or ratings, is disproportionate to your competition, meaning, if you're in the number one position, and you have two reviews, and the person in the number two, number three or number four position has thirty forty, fifty, one hundred reviews, then your listing at the number one level it loses what I call the eye attention of that particular searcher or that particular prospective customer. So what you need to do is think about how can you and your team sit down and come up with a strategy.
One of the easiest ways to boost your online reviews.
Strategy number one is to sit down with your team and look at your past customer database and inside your database, let's just say for easy math; you've got one hundred previous customers. In most cases, you've gotten raving fan customers who are already out there promoting you, already referring you to friends and family and they'll do business with you the next time that they need a product, services that you offer.
What you should do is create a single campaign to pick up the phone and call those ten customers and ask them if they use Google or Yelp and ask them if they would be so kind as to leave you a review.
Don't ask for a positive review, don't ask for them, don't write them a review and tell them to post it, you just want them to leave an honest review either of those platforms each one that they use.
The second strategy is to think about how can you orchestrate reviews in your sales process.
When I went back to lending industry back in two thousand, one of the things that we did, we orchestrated a process called planting the seed, and that meant that we had a process in our sales script. And in our client boarding and in take script which sort of dropped the seed that we were going to ask for a referral later in the process and the script went into something like this
"Mr. and Mrs. Potential Homebuyer, It is my team's objective to serve you at the highest level for that reason. For any reason less than one hundred percent satisfied, with my service or either my team's service throughout this entire mortgage loan process, we're going to be working for about thirty days maybe forty-five days. If there's at any point in time that you're not one hundred percent satisfied with our service, would you please let us know so that we can get that taken care of."
What we were doing was planting the seed so when the transaction closed, we can then send out our traditional back then we weren't getting any reviews on line, we were doing them on written testimonials, written reviews sheets. What we were doing was planting the seed that was our goal to serve them at the highest level.
So what did we do was to invite any type of conversation that was less than a hundred percent of their satisfaction, to our attention so we can fix it which is why we ended up with such raving reviews back in those days.
So strategy number one is sit down and really reaching out to your top ten top twenty customers. And if you've got fifty customers that you know are absolutely raving fans, go to those folks first. And then number two think about how you can build in to your sales script a process that plants the seed that it's your expectation to serve them at the highest level. If, for any reason, that they are not one hundred percent satisfied, let your team know so that your team can fix it during the time that they're buying your products and services or while they're working with you in their engagement.
So that's strategy number two and then strategy number three, it's sort of an extension of strategy number two, and that is look for every other opportunity to ask them for a review. In other words, after the product has been sold, I mean if you think about buying something on Amazon today, you want to buy something on Amazon within a day, or two or even maybe a week and I buy things from Amazon all the time, I am always getting that follow up email that says would please rate your experience with the purchase of this product. So that would maybe be a third strategy kind of similar but a little bit of I mean you could do this with every single one of your customers but obviously planting the seed if you have the ability, I think it's going to yield you more reviews.
So as we wrap up this video, I just need to impress upon you that you can have the best search engine optimization possible, you could be writing the best content possible but if you're online presence is lacking reviews, relative to your competition, then they will not click on your listing and all the money that you've invested for search optimization, content marketing inbound strategy even your Google pay per click ads. If your competition has a online presence that dominates you in terms of reviews, even if you're better than them, right cause I've talked to businesses and they say, 'Oh we're better than them." and that's fine but unfortunately their customers are screaming to the rooftops about their service and If you're not doing it for your company then my eyes are going to go, and most consumer eyes are going to go with the most reviews.
So, I want to wrap this up and want to implore you to really sit back and take a look at this whether you're optimizing your web presence or not, having online reviews will serve your business in a major, major way.
So, this is Darrell I'm going to sign out and we'll talk to in another video. Go out and get those reviews. Talk to you soon.