One of the best recognized and most frequently used social networks in the world is Facebook, and so for good reason, millions of businesses invest heavily in their presences here.
You might be asking yourself how effective Facebook can be for your business. One doesn't typically flock to Facebook to peruse the pages of attorneys, medical practices, or financial advisors. The same rules that might apply to a musician or local coffee shop won't work here – so is this as wise an investment?
The simple answer is yes. With so many people so active on this platform every single day, it represents a significant opportunity for your business, but only if used properly. Let's take a look at what Facebook offers, why it's so powerful for businesses like yours and how it's being used now to great effect.
The Strengths of Facebook for Local Businesses
As of April, 2015, there were 40 million active small businesses on Facebook. That means 40 million different Business Pages that were actively engaging with customers, prospects, and referrals alike.
How could a single platform attract such a large following? Simple, everyone is here. While there is certainly a large contingent of Internet users who still avoid Facebook (and similar sites), but Pew Internet Research reports that 71% of online adults have and use a Facebook account. That's a lot of people, and it crosses practically all demographic boundaries.
Simply put, your customers are on Facebook, one way or another.
But it goes beyond raw reach. Sure, everyone is there, but how can you reach them? Facebook has invested billions of dollars into just this concern. The analytics available to Page owners on Facebook are comparable to what Google provides for websites and much more targeted to individual users. More importantly, for those with the budget, advertising on Facebook allows for incredibly precise targeting, down to a user's employer, taste in music, or alumni status.
While many professional services and elective medical providers have restrictions on what they can communicate via social media, there are plenty of opportunities here to reach and address your target audience.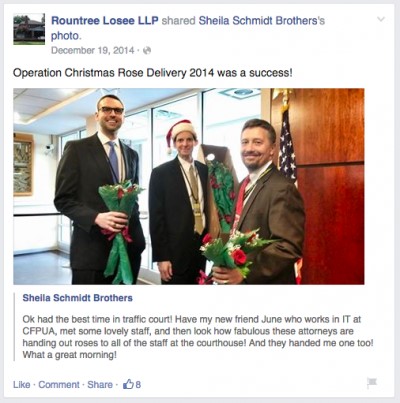 A law or accounting firm may not be able to comment on legal proceedings or give finacial advice on Facebook, but they can communicate their community involvement or share content produced by others to showcase their efforts. This is one of the key strengths of Facebook as a platform.
How to Use Facebook for Local Social Media Marketing
So how then do you use Facebook effectively to market and grow your business? Any industry can benefit from Social Media Marketing. From Auto Body Shops to LASIK Surgeons, and everything in between, there are several things you should do for your audience that will allow you to maximize value from this platform.
Create a Clear Social Media Policy – Create a clear communications policy for your business so every member of your team (or the team you hire) knows what to expect when submitting content.
Brand Your Facebook Page – The three key components of your page include the URL which you can customize when you reach 25 Fans, the cover image, and the about section. Spend a liberal amount of time working on each to ensure they present your brand clearly.
Post a Mixture of Content – Mix up the type and format of content you post to Facebook and be consistent. Try to post at least one item every day and ensure 75% of all posts have an image or link. Photos in particular are very powerful, getting 53% more likes, 104% more comments and 84% more click-throughs according to Facebook's own data.
Create and Push Original Content – This works for all types of business, regardless of your audience. Create new and original content in the form of blog posts, new pages on your website, or other components that are designed to help your audience – this provides powerful tools you can then promote on Facebook.
One more very important factor to consider is that Facebook Pages have limited reach if you don't invest in paid search. The average post by a business on Facebook reaches only 2.6% of your audience. That's down from 16% three years ago and it continues to decline.
The reason?
Competition with more content coming from more sources than ever before. To increase that number, you need higher engagement rates – if someone clicks your links, likes your posts, and comments on your content, they are more likely to see more of it in the future.
The alternative? Paying for it. Facebook's ads can drastically increase reach and grow your audience, all by pushing the content you are already creating.
Using Facebook Effectively
There are several Facebook pages that get it right – here's one that shows how to produce regular content that resonates with a diverse professional following: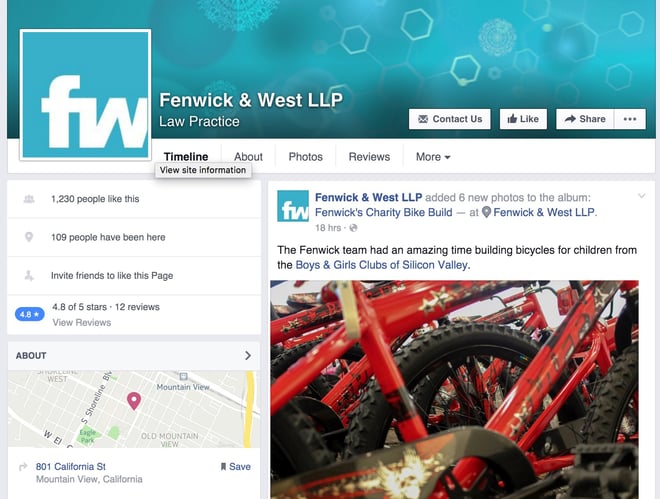 Fenwick & West LLP offers posts every day, frequently linking to community content and events, showing members of the team in the office, and highlighting individuals in their organization presenting publicly.
The result is a solid, brand building experience that is engaging for their 1200+ fans and works well to drive significantly greater engagement than the average for a Page their size.
Facebook is a powerful tool for local social media marketing efforts regardless of what industry you are in. Follow the best practices listed above, focus on providing real value and maintain a consistent presence and you'll see real results from your efforts.
Get started with growing your social media presence and download our free Social Media Lead Generation Workbook that will help guide you as you develop a killer social media strategy.